Napoli captain Marek Hamsik could be set for a move away from Italy with three Chinese clubs interested in signing the Slovak international, his father said on Tuesday.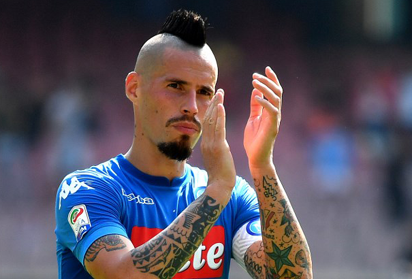 The 30-year-old midfielder overtook Diego Maradona as the club's record goalscorer this season as the side from Naples finished second in Serie A behind Juventus.
As the player himself revealed he would "like to try something new" his father Richard Hamsik said he has received offers from three Chinese Super League clubs for up to 10 million euros ($11.8 million) per season.
"We believed that this year we could finally win," Hamsik told Slovak daily Pravda in quotes carried by the Italian media.
"I'm disappointed for the fans, who deserved this title, and I thank them for their great support.
"I've given all my strength to this team and maybe the time has come for our paths to separate. I would like to try something new."
Hamsik, who has 103 caps for Slovakia, joined Napoli in 2007 from Italian club Brescia and has made 500 appearances for the club in all competitions, scoring a record 116 goals.
"At the moment there is a 60 percent chance he'll go to China," his father Richard said.
"Their interest is serious, but the negotiations are not easy. In China it is not the transfer period, the next session will open only in winter.
"So there's a problem with the timing, also because the Chinese teams have limits for the registration of foreign players.
"Marek has a contract in Naples for three years, so now everything is in the hands of managers and his employer."
Meanwhile, the Mayor of Naples Luigi de Magistris said that the city intended to make the Slovak an honorary citizen of the southern Italian city.
"It would be nice if this did not coincide with his departure from Naples," said de Magistris.
"We have seen in recent days how strong the link is between Hamsik and the fans, the city and Neapolitans."
The player's decision could be based on whether coach Maurizio Sarri remains at the San Paolo Stadium.
The 59-year-old Sarri has been linked with a move to English side Chelsea, whose manager Antonio Conte is expected to leave in the summer.
The post Napoli skipper Hamsik considering China move: father appeared first on Vanguard News.