The Nigeria Athletics Masters (NAM) in its effort to organise, regulate and administer athletics for masters (women and men of not less than 35 years) on Tueday held a one day symposium.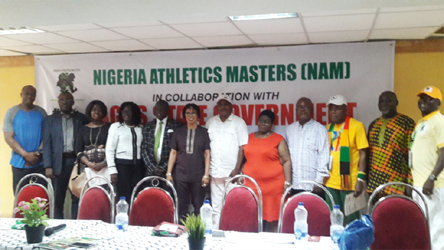 The theme of the symposium which was attended by no fewer than 70 sportsmen, is "Health and Wellness for 50 years and above Sports Stakeholders''.
The President of NAM, Dr Gloria Obajimi, said that the symposium, which featured high blood pressure and blood sugar level check was a way of giving back to the society.
"This is giving back to the society and to tell us how to live a healthy life as many of us were discovered at a very young age.
"We need to be fit for the young ones to be proud of us and remain in the sports.
"The symposium is to check our blood pressure and blood sugar and ask questions about issues concerning our health,'' she said.
The Chairman of the programme, Dr Rauf Ladipo, said that a lot of people were walking on the street with the silent killer called high blood pressure.
"High blood pressure is deadly, sometime ago, I went to the bank and saw a young man who came to cash a cheque, he put his head on the desk while waiting for the cash and that was the end.
"Thank you Dr Obajimi for giving us this opportunity to check our blood pressure and sugar level. I don't want it to be a one-off programme. I want you to take it to all the states.
"I want to thank you and your team for giving us the opportunity to be healthy and to also encourage us to regularly go for checkup,'' he said.
Ladipo, the President-General Nigeria Supporters Football Club, said he was ready to support NAM financially.
Chioma Ajuwa, an Assistant Commissioner of Police, and an Olympic gold medalist, said that members of NAM should stop fighting for positions but rather use their position to bring the young ones up.
"We need to advise the young ones to take their education serious and to choose an event that will fetch them something in life.
"Let us help the young ones and be our brother's keeper,'' she said.
The facilitators were Dr Lucy Ladipo, Director Post-graduate School of Psychiatry, Yaba, who spoke on depression and Enefiok Udo-Obong, an Olympian spoke on fitness. (NAN)
The post Nigeria Athletics Masters hold health symposium, blood pressure check appeared first on Vanguard News.