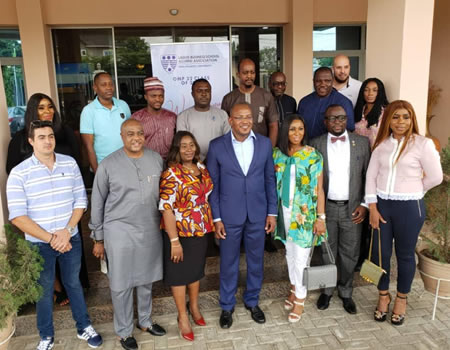 The Managing Director / CEO of Lycuem Alliance Limited, Dr Jekwu Ozoemene has said that Nigeria can only attain economic buoyancy with sound economic and fiscal policies.
Ozoemene, who is a financial expert said this on Friday, during a lecture organised by Owner Manager's Programme (OMP) 22 Class of 2016, Lagos Business School at Best Western Plus, Iyaganku GRA, Ibadan.
Speaking on the theme of the LBS Alumni Session on global economic outlook 2019 was `Global Change and the Next Global Financial Crisis.'.
He said that the nation must evolve sound fiscal policies that could enhance its buoyancy and make it less vulnerable to global financial or economic crisis.
Ozoemene said that there were still underlining fiscal issues that needed to be addressed to enable the country to get out of the current quagmire of the minimum wage.
He says the N30,000 new minimum wage recently passed by the National Assembly might difficult to implement unless the government changes most of its fiscal policies.
Ozoemene said that lots of the problems and profligacy experienced in Nigeria were driven by the mentality that the nation was an oil-rich one.
He said that Nigeria has never been an oil-rich country, adding that many states in the country had neglected generation for monthly allocation
He said "When we implemented minimum wage in January 2012 that action alone increased government's salary, wages and pension portfolio by over 53 per cent. It increased from N7,500 to N18,000.
"Now we are increasing from N18,000 to N30,000. In a situation where we only have recurrent expenditure portfolio of about 2.6 trillion and debt service of about 2.2 trillion and total government revenue of 3.8 trillion, clearly, there is a problem.
"And if we say we want to fund the additional increase by increasing VAT by 50 per cent, VAT last year was 1.1 trillion, then we are looking at something around 1.7trillion and would still not fund the shortfall.
"We have also held a narrative around the selling of government stakes in the JVC, this would bring additional 3 trillion, but can we be doing that every year,'' he said
"In economic theory, a burst always comes after a boom and what every business, as well as country, should do is to prepare itself for the next burst.
"While you are enjoying and benefiting for the boom, you are preparing for the next crisis that would come using both physical and monetary policy tools.
"If you follow happenings in the economic community, you will see that a lot of economists and analysts are already telegraphing the next burst. The last major burst we had was in 2008.
"We found ourselves in a rapidly changing world. We have seen ourselves in a world where global debt has increased by over $150 trillion in the last 15 years, double what it was before,'' he said.
He said that the world was experiencing more risks today, saying it was imperative to prepare, protect and leverage on such risk.
According to him, "We are in a place where only one per cent of lands where sub-national government get taxes are titled. In some states, it takes many years to get a certificate of occupancy.
"If it is important from a revenue generation angle, people should be able to get it in 48 hours. We have countries like Rwanda where people print their titles from the system."
The Class President, OMP 22 Class of 2016, Mr Seyi Alaba said that the choice of the topic was for people to understand the global effect on their businesses.
Alaba, who is Managing Director of Private Guard urged those in businesses to always pay attention to warnings and other information as regard global effect on their businesses.
The post Nigeria can attain economic buoyancy with sound fiscal policies — Lycuem Alliance boss appeared first on Tribune Online.