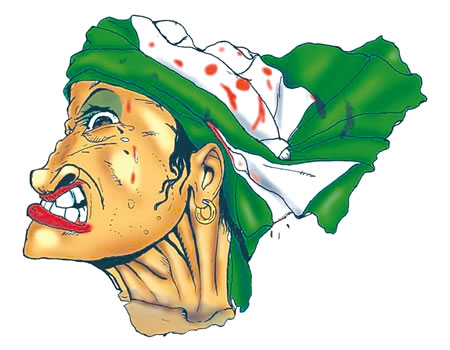 I grew up with the anthem of hope and song of "one day e go better" on the lips of my parents and others. This song of hope has been passed on to us and from one generation to another, this song has remained on the lips of many. However, I do think hope is a dangerous threshold. It's like been caught in-between the world of realities and dreams, almost like a semblance of Plato's world of forms.
Staying on that threshold for long soon dissipates into utter illusion. Thus, there is the necessity to quickly make a decision to put our hope into purposive actions and not just words that express wishes at best. For me, making hope a reality lies in the confines of the ordinary man who wishes to leave the gates of suffering and an era of scrambling for life. My hope for this nation (though waned), which I tend to share with others, finds its resonance in the strides, creativity, resourcefulness and doggedness with which Nigerians, both home and abroad tend to survive. But, as a result of the systemic failure inherited and passed on over decades, Nigerians have developed mild and comatose low self-esteem, that nothing good can come out of this political structure. We pride ourselves in self-loath, which blind us to the reality of imminent progress. Though the portrait of our nation is in truth that of mediocrity, it does not, however, erase our innate instinct for survival and the ingenuity that arises from it.
No outsider will impose Senate President, leaders on 9th Senate ― PDP caucus
Given our experience and the places we have been, I agree that we can do better; but how much better can we realistically expect to perform? When we have a vast array of persons, groups, and institutions that for long were schooled in a particular way and have not known any other than the non-accountable, non-democratic, non-patriotic and non-people friendly style, then much will be unachievable. As a nation we must accept a major transition, a journey away from a past we can't and must not ignore, to a future that must be better. Along the way, as we have seen, there will be frustrations caused by sluggishness of the pace of the journey. Worst still, there will be resistance from those who profited from the old order and for whom the new means loss and reduction to irrelevance and political bankruptcy. But we must all agree to fight against this resistance the way we fought off Ebola, for this resistance is a worst plaque. Each Nigerian must demand a change in the status quo. We must do this, first by re-orientating our minds, which will open ways for a renewal of the way our entire national system operates. We must shake the dining table off those who claim to own the kitchen and demand appointment of new cooks. And when we have done that, we must all demand accountability and demand they stir our pot of soup in a way it won't get burnt. We had a chance to do this in the just concluded 2019 and while some of us failed or were "made" to fail at it, we must continue in the same spirit with which we started. If we can't do it for ourselves, then we should do it for our children. We must realise that our options are numerous and must deliberately decide to reject the options they give us. We must reject mediocrity of government and must assume the roles of stakeholders; after all, the community belongs to all! They might want to make it seem as though we only have few or no options; and while we think they are different, we must know that they are both in the same class of food. We must look for ways to explore the others who offer balanced diet. We cannot keep a blind eye, hoping that things will indeed be better. We, as a people, must decide to explore our options. Even as the results of the concluded and concluding elections are coming in and being challenged, we must not be distracted by their game. We should know that the ultimate power in any leadership game lies with us, the people. We can seat and unseat anyone who underperforms. This is the only way to the light at the tunnel's end. Only through this will our hope come to fruition, else we may just continue our song of hope in perpetuity.
Paul-mark writes via pmarkroma05@gmail.com
The post Nigeria: When hope is not enough appeared first on Tribune Online.