By Emeka Anaeto, Business Editor
AS the bulls resurged at the Nigerian Stock Exchange, NSE last week, after the momentary banking sector shake-down in the first two trading days, Nigerian Breweries Plc, NB, may be a key beneficiary ahead of this week's rally. But this is also coming against a major investment analysts' downgrade of the stock.
Already the stock has shown recovery signs after several days of adverse reaction to its moderate financial performance in the full year (FY) 2017, and market feelers indicate that this week would sustain the positive sentiment.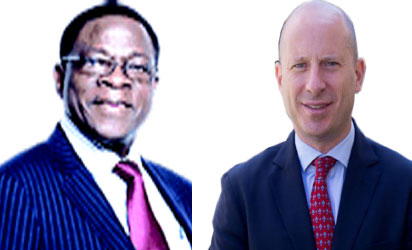 NB had beaten all the quoted companies in the NSE being the earliest full year (end December result ) announced in the NSE previous Friday (February 16). But, apparently the fundamentals were not satisfactory enough to give it the first result advantage. Consequently, investors began to dump the shares and the price nose-dived steadily from pre-result level of N134.90 to N122.90 by Thursday last week, about 8.9 percent decline.
However, it seems the negative sentiment has bottomed out as a strong rebound in the price was recorded at close of trading on Friday with the stock gaining 5.8 percent to close at N130.00.
The impact of the one-week adverse sentiment had dragged the stock to -3.6 percent Year-to-Date (YtD), despite 9.0 percent and 8.9 percent gains in January and February respectively.
But last weekend's rebound appears a dead-cat-bounce as it was coming against an equally adverse analysts ratings and forecasts on the multinational brewing and beverages giant.
Analysts at Cardinalstone Finance, a Lagos based investment house, had downgraded the NB stock while casting a slur on the short-to-medium term outlook, based on some fundamentals of the 2017 full year results. 
The Results
Nigerian Breweries released its FY'17 results reporting a 9.8% rise in revenue to N344.6 billion. Industry observers believe this rise was primarily due to price increases the company effected across all its product lines to counter the effects of rising inflation on its gross margin. This eventually supported top-line growth in 2017. But remarkably, FY'17 volumes declined mid-single digits, notably for stout and malt brands, while lager remained largely stable. Analysts attribute the continued pressure on volumes to the persistent down-trading especially on the firm's mainstream products, though at a much slower pace compared to the previous year. But the volume decline could also be attributable to the lingering weakness in consumer purchasing power, despite gradual decline in inflation; And also increasing competition in the brewery landscape.
Cost pressure escalating
NB's cost of goods sold (COGS) to revenue ratio has risen steadily over the years as cost pressures continue to eat deep into the available opportunities for gross margin expansion.
While foreign exchange (FX) pressures eased somewhat during the year following the introduction of the  Investor and Export I&E  Foreign Exchange Window, the still double-digit inflation figures continued to impact negatively on input costs.
In addition, local sourcing of inputs declined during the year to 50.2 per cent primarily due to a drop in the availability and quality of locally grown sorghum. As a result, the company relied mostly on imports for its key raw materials during the year. However, management has reiterated that efforts remain ongoing to increase local sourcing of inputs to about 60 per cent in 2020 across sorghum, cassava and sugar value chains. On this note analysts at Cardinalstone said they expect cost pressures on gross margin to ease slightly as effects of high inflation gradually subside.
Margins got weaker
The yearly decline in NB's operating margins (after adjusting for a non-recurring N1.6 billion in insurance claims) persisted in 2017 as FY'17 Earnings Before Interest and Tax, EBIT, margin went down to 16.1 per cent compared to an average of 21.0 per cent in the past three years.
The rise in expenses was faster at 6.5 per cent Year-on-Year (YoY) compared to an EBIT growth of 5.0 per cent YoY, impacted by warehousing and logistics challenges. Personnel expenses were also higher during the year (up by 6.0%) despite an 8.7% reduction in number of employees to 3,328.
However, in a bid to improve cost efficiency, NB continued to make progress in its adoption of alternative energy for heating purposes. In 2017, the number of breweries utilizing natural gas increased from 5 to 7, while the firm also completed a project to generate biogas from waste water. The company aims to generate about 10 – 15% of its breweries' heat demand from biogas with the attendant cost savings.
Overall, energy consumption declined 3% in 2017 compared to 2016. NB's FY'17 return on average assets (ROA), at 8.8% was 90 basis points (bps) higher than the 7.9% observed in FY'16. However, analysts reckoned that it remains lower than a three-year average of 10.3%. Cardinalstone stated: "We expect this to improve to 9.7% in FY'18 and an average of 11.9% over FY'19-22."
Against the backdrop of the NB's currently weak operating environment, the analysts further forecast FY'18  Earning Before Interest and Tax, EBIT margin to remain subdued at 15.9% although they felt  that this will gradually improve over time to an average of 16.2% over FY'19-22 fiscal years.
Lower finance cost advantage
Nigerian Breweries reported a 16.8% growth in after tax earnings to N33.1 billion in its FY'17 result as against N28.4 billion in FY'16. This was largely impacted by a N1.6 billion income from insurance claims and a 39.8% decline in FX losses on the firm's foreign denominated payables which tookN5.0 billion in FY'17 as against N8.3 billion in FY'16.
Overall, net finance costs declined 20.7% to N10.5billion as against N13.2 billion recorded in FY'16.
In 2018, analysts expect a more stable FX regime to lead to continued moderation in net finance costs even as the company also intensifies its local sourcing of raw materials to curtail over-reliance on imported inputs.
Analysts' forecasts, verdict
In view of the above scenarios the analysts at Cardinalstone gave an uninspiring verdict on the investment outlook for NB.
They stated: "Despite gradually improving macro-fundamentals, we expect growth to remain slow for the brewer given its tight operating environment and thus project a 9.4% revenue growth to N377.0 billion and a 15.1% increase in after tax earnings to N38.0 billion. "While gross and net margins are expected to improve to 42.4% and 10.1% respectively, we expect EBIT margin to remain weak at 15.9% as the company continues to grapple with cost pressures."
"For FY'18, we expect modest improvement in volumes especially as consumer purchasing power gradually recovers. We also think that the brewer will intensify efforts to cement its market leadership across key brands such as Heineken and Star while ensuring competitiveness of its mainstream products.
"Just recently, the firm introduced a new premium lager beer brand – Stella Lager- as part of its strategy to further dominate the domestic beer market. It is our view that broad-based acceptance of this product will tend positively for topline given its premium quality and pivot towards upwardly mobile consumers. "However, while we note that the firm remains positioned to take advantage of pricing opportunities in the market in support of topline, given that it has more control over prices than its rivals, we think that chances of additional upward reviews in 2018 are very limited following price increases made in the last two fiscal years. "Thus, we expect a more volume-focused strategy for turnover growth.
"Following the release of NB FY'17 results, we adjust our projections and revise our target price (TP) downwards to N120.06 (Previous: N150.42). Our price target implies a downside of 6.2% to current market price thus, we downgrade our rating on the stock to a 'SELL'. "
The post Nigerian Breweries: Analysts downgrade stock, as investors' sentiment rebounds appeared first on Vanguard News.