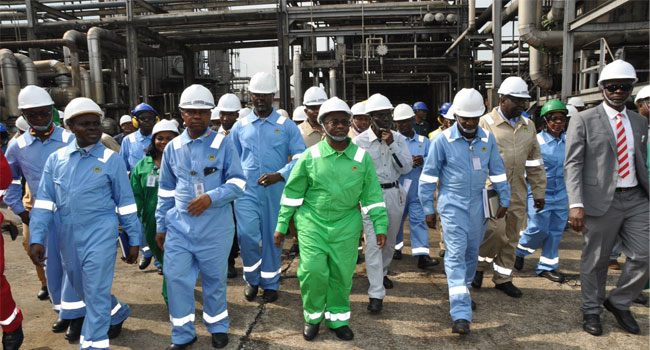 The Nigerian National Petroleum Corporation (NNPC) has inaugurated eight committees which are charged with ensuring that the nation's three refineries operate at their full capacities in 2019. 
NNPC spokesperson, Ndu Ughamadu, said in a statement on Wednesday that the Group Managing Director of the Corporation, Maikanti Baru, urged the committees to deploy "out of the box solutions" to ensure that the refineries return to their good old days of top class performance.
"I am convinced that the teams we have selected here today will give the necessary direction towards returning the refineries back to their optimal levels of performance," the NNPC GMD was quoted as saying.
"We want to show everyone that we can fully run the refineries. You must all work together to operate them at 100 per cent capacity as this was the only way to ensure profitability." adding that "we can fix the refineries but without the right people to operate them, they would go back to where they were or even worse."
Although Baru is optimistic that the refineries can be fixed, he warned that "without the right people to operate them, they would go back to where they were or even worse".
The Chief Operating Officer Refineries and Petrochemicals, Anibor Kragha, while inaugurating the committees informed them that the 2019 target was the first time in 20 years that both the political will and the economic climate to ensure effective "retrofitting of the refineries" are present.
He further said that over 28 expressions of Interest had been received so far for the financing of the rehabilitation project and that the goal was to get more by the end of the year.
"Payment is therefore hinged on performance, ensuring a win-win situation for Nigeria," Kragha said.
The post NNPC Inaugurates Eight Committees To Rehabilitate Refineries appeared first on Channels Television.