Samuel Ekeoma, a former Technical Director of the Nigeria Para-Powerlifting Federation (NPPF), on Tuesday urged the Federal Government to provide adequate welfare package for power lifters.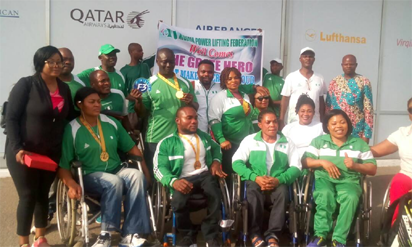 Ekeoma said in Lagos that the sport had brought glory to the country than any other.
He said that their performance at the just-concluded Commonwealth Games in Gold Coast, Australia, was an attestation of their dedication to always fly the country's flag high at international competition's podium.
The country won all the four gold medals at stake and two silver medals at the Games which held from April 4 to April 15.
"Our power lifters have done a lot for this country and I believe it is time for them to be duly recognised for all their performances over the years.
"They have always delivered at major international competitions and are ranked number one in the world.
"Someday, these athletes will need something to fall back on after their career, so the government needs to provide employment or welfare package to sustain them,'' Ekeoma said.
He added that such gesture would attract more physically challenged persons to the sport and keep them off the street.
Ekeoma also appealed to corporate bodies to give adequate support to physically challenged athletes. (NAN)
The post NPPF former Technical Director make case for powerlifters appeared first on Vanguard News.