FORMER President Olusegun Obasanjo has endorsed Anchor Insurance Loss of Employment Insurance Scheme (AnchorLoEIS).
Obasanjo gave the endorsement when the company's management paid   him a courtesy visit at the Olusegun Obasanjo Presidential Library in Abeokuta, Ogun State.
In a statement, Head, Brand & Corporate Communications of Anchor Insurance, Mr. Jamiu Osoba said, "While introducing the members of the delegation, the General Manager, Retail and Micro Insurance, Mr. Uzoma Ofurum introduced the product to the former President.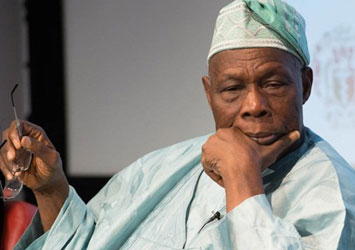 "Seeking to know the benefits of the product, the former President was informed that is a product developed to cushion the effect of the sudden loss of employment with the payment of salary income to policy holder for 24 months after loss of job. The former president thereafter endorsed AnchorLoEIS. He said he will be in the fore front of the product's promotion and advised all Nigerians and indeed the employed to take this insurance policy and enjoy its benefits as a protection in the event of a job loss."
In a related development, Anchor Insurance said it has partnered with the Olusegun Obasanjo Presidential Library on its Wildlife Park (WLP) "Adopt An Animal" programme by adopting a Lion tagged "Anchor Lion" in the Wildlife. "With this partnership, the company has created the opportunity to contribute to the conservation of local animal species and encourage their reproduction and preservation of wildlife which in its stead will further encourage local tourism.
"Obasanjo announced to the delegation the plan to insure the animals in the Wildlife Park against the third party liabilities as it is essential to protect the visitors to the park from any unanticipated eventualities."
Obasanjo said, "Just in case somebody puts his hand in a lion's  cage or a lion breaks out. It is very important to have insurance despite all the barricades and cages we have in the park".
The post Obasanjo endorses AnchorLoEIS appeared first on Vanguard News.