By Daud Olatunji
ABEOKUTA — There was a serious debate at Ogun State House of Assembly Committee of the whole house when the members grilled commissioners for Agriculture, Finance as well as Youth and Sports, Adepeju Adebajo, Wale Osinowo and Afolabi Afuape, respectively over the proposed N4 billion loan for fertiliser by the state government.
The House had summoned three commissioners to appear before its committee of the whole house to shed more light on the N4 billion proposal on fertilizer, but the Assembly seems to be unconvinced by the explanation of the commissioners.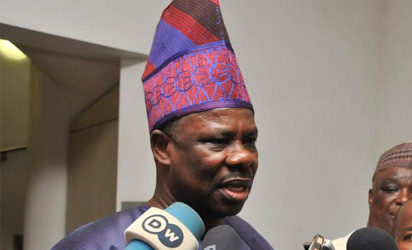 The state government had intended to purchase 40,000 metric tonnes with the N4 billion, but was only granted the approval to purchase 20, 000 tonnes with N2 billion.
At the plenary, the House granted the approval to the State Government to go participate in the bulk purchase of fertilizer under the Federal Government of Nigeria's Special Fertilizer intervention programme, but, however, reduced it to N2billion.
Meanwhile, the assembly said it had received a bill from the governor proposing a bill for a law to provide for the remuneration of the public/political office holders in the executive and legislative arms of the local government/ Local Council Development Areas of the State.
The Speaker, Suraj Adekunbi of the House while acknowledging the receipt of a letter from governor Amosun disclosed that, the letter was dated 6th of February, 2017.
The post Ogun Assembly slashes Amosun's N4bn loan request by half appeared first on Vanguard News.