Asaba – Governor Ifeanyi Okowa of Delta has given the contractor handling the reconstruction of the Stephen Keshi Stadium Asaba till the end of June to complete the project.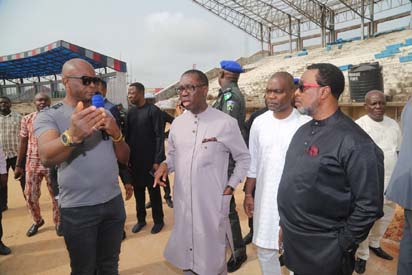 Okowa gave the ultimatum on Tuesday after inspecting the pace of work at the stadium.
He said that he would ensure that the stadium was ready for the hosting of the 2018 Africa Senior Athletics Competition (ASAC) scheduled to commence in first week of August.
"We are expecting that the stadium should be ready by the end of June.
I have also advised the contractors on what they need to do; what I need to do is to ensure that I am more regular in the project inspection.
"They are working hard but I believe that they need to work faster than they are doing now because there is a lot more to be done," he said.
Okowa who also inspected the project at the Asaba Airport, said that the ongoing work on the runway would be completed by the end of this month.
He said that as soon as the airport runway was completed, the airport could be re-opened to flight.
The governor also said that some money had been approved for the survey of the airport premises.
He said the survey would determine whether all the buildings marked for demolition around the airport were within the premises or not.
"Other job at the airport may continue but once the airport runway is completed, it means aircraft can come in," he said.
Okowa added that a lot of achievements had been recorded in the state within the three years of his administration.
"We shall celebrate our three years anniversary in our usual way with thanksgiving to God.
"On May 29, we are going to dance to the glory of God and this time our celebration will be aired live for all Nigerian to see," Okowa said. (NAN)
The post Okowa gives contractor 1 month deadline to complete Stephen Keshi Stadium appeared first on Vanguard News.