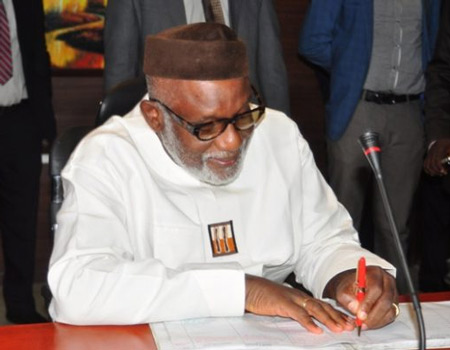 The Ondo state government has closed down an illegal hospital, Arib Hospital located at Iretolu street in Okitipupa,  Okitipupa Local Government Area of the state over the admission and training of about 52 Auxiliary Nurses.
The ministry also issued warnings to three other hospitals in the town to stop the training of Axillary Nurses while fake pharmaceuticals stores were also sealed off by the ministry.
The Acting Permanent Secretary, Ministry of Health, Dr Dipo Durojaye, who disclosed this to newsmen in Akure, Ondo state capital, said the culprits, Dr Odusola Aribo, would be prosecuted to serve as lessons to others.
He said the illegal clinic was established by Dr Aribo, without following the laid down regulations and failed to register the hospital with the State Ministry of Health.
ALSO READ: Rivers election: APC claims INEC has prepared Certificate of Returns for PDP
Durojaye disclosed that the state government has put some measures in place to curb the activities of the illegal operators of health facilities in the state, saying "the state government will not allow the life of the people to be endangered."
He also warned Patient Medicine stores operating as hospitals and treating patients, to desist from such activities as it poses a great threat to the well-being of the society or face the of the wrath of the law.
Also speaking the Director Hospital Services, Dr Richard Adesoji, frowned over the rising number of quacks in the health profession saying despite the enormous negative effects, people still ignorantly patronise them and said" this is unacceptable to the government"
He warned that hospitals that cannot employ qualified Nurses, should engage the services of Community Health Extension Workers ( CHEWS) as contained in the agreement of the National Council on Health.
The Director Nursing Services, Mrs Alice Ogundele who led the monitoring team to Okitipupa noted that some hospital in the area had more than 50 Auxilliary Nurses under training while qualified Nurses and Midwifery are not walking on the streets.
Ogundele said this trend was dangerous to the Nursing Profession, as it will not allow qualified Nurses to get jobs as these quacks are a  source of cheap labour just wasting their future away.
She said the Auxiliary Nurses, constitute a danger to humanity describing them as half baked, while some of them also operate illegal medicine stores.
The post Ondo seals off illegal hospitals, pharmaceuticals appeared first on Tribune Online.