Nigeria's Onome Ebi was on Thursday unveiled by the Chinese side, Henan Huishang FC, after she agreed to a deal with the club.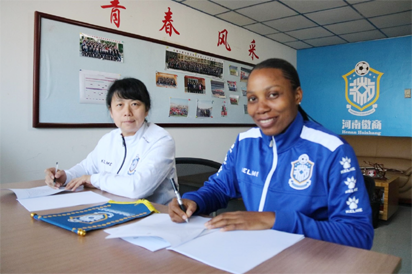 The three-time African Women's Championships (AWC) winner is making a grand return after working hard to recover from an injury she sustained in December 2016, at the final game between Cameroon and Nigeria.
Ebi managed to play the final minutes of the game with a fractured hand, in which she displayed an exemplary act of patriotism that earned her the respect of all.
The injury side-lined the centre back for more than a year.
She last laced her boots for FC Minsk in the Belarusian Premier League, prior to that injury.
Koye Sowemimo, Head of Sports, the Temple Management Company (TMC), in a statement said that they were proud of Ebi and delighted that she was up and ready to play again.
"We are delighted for Ebi, as with every athlete. You can feel the pressure of not competing again when opportunities do not come quickly enough.
"But thankfully, Ebi's mental strength and the support of her team kept her in good spirit and she has been duly rewarded with a new chapter in her football.
"We wish her a successful outing in China and all the very best in all that she does,'' he said.
Expressing her delight, the talented footballer revealed that it had been a long journey.
"Thanks be to God Almighty for making this possible.
"I am back in football again and to say I am super excited is to put it mildly.
"I want to thank everyone who has been with me on my journey to recovery and has helped to make this possible.
"I want to single out my management team here, the Temple Management Company, for being a strong support system and making sure this transition was smooth,'' she said.
The former Bayelsa Queen FC player added: "I can't wait to play football again for my club and country.
"I have survived one of the biggest challenges of my career and I am in a happy place to once again do what I love best,'' the three-time champion said. (NAN)
The post Onome Ebi signs with Chinese side, Henan Huishang FC appeared first on Vanguard News.