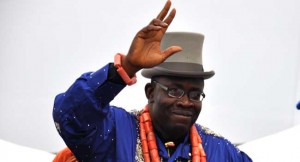 Bayelsa State Governor and Chairman of the People's Democratic Party Reconciliation Committee, Seraike Dickson, on Wednesday, met with senator Ahmed Makarfi and some other members of the party in Abuja.
The meeting, which took place at the temporary secretariat of the Makarfi group, was aimed at finding solutions to the lingering crisis rocking the nation's former ruling party.
Governor Dickson said the election of all officials of the party at both state and zonal levels before the botched May 21 Port Harcourt convention, remains valid.
Senator Makarfi, however, promised to study the template and relate with other organs of the party on the report before making any serious pronouncement.
Illegal Faction
On February 17, a Federal High Court sitting in Port Harcourt ruled that the caretaker committee headed by Senator Ahmed Makarfi was illegal and could no act on behalf of the PDP.
The judgement, read by two of the three judges on the appeal panel, set aside the judgement by the High court in favour of Ali Modu Sheriff.
Following the judgement, the party's National Chairman, Senator Sheriff, moved into the national secretariat, nine months after it was sealed by the Police in May 2016.
He, however, described the judgement  as a victory for the party, adding that the interest of the party superseded his office as the National Chairman.
He therefore stated that he was willing to relinquish the position for the party to move forward.