By Jacob Ajom
The end to the crisis rocking the Nigeria Football Supporters Club is not yet in sight as feelers from the Ayinde Giwa Street secretariat of the club still offer conflicting signals to the peace moves by the Minister of Sports, Barrister Solomon Dalung.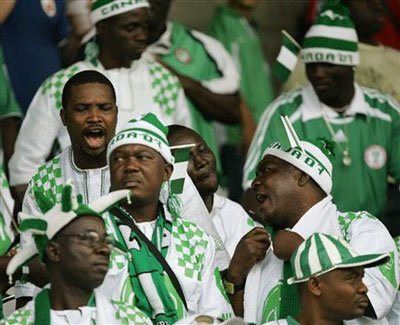 Dr Rafiu Oladipo, President General, World Wide told the press Friday that the Minister had constituted a committee which is peopled by members of from both factions lead byReverend Samuel Ikpea and Vincent Okumagba, to co-ordinate Nigeria's support for the Super Eagles at the World Cup in Russia.
He disclosed that the meeting was attended by the Sports Minister, the Permanent Secretary in the ministry, deputy directors, senior members of the supporters club including leader of one of the factions Vincent Okumagba and Reverend Ikpea.
"At the end of the meeting it was resolved that Nigeria was not going to the World Cup with two supporters clubs," Ladipo said, adding that the committee which he is the head with Okumagba as Secretary is to oversee activities of the club at the FIFA World Cup and the 2018 FIFA U-20 Women's World Cup in France. "This is the commencement of full reintegration of both factions and the return of permanent peace to the club."
But in a twist to the whole scenario, National chairman of the Club, Reverend Samuel Ikpea was at the Surulere Police Station while Ladipo was addressing the press. Ikpea's presence at the police station was sequel to a petition written by one Kemi Popoola, secretary of the Okumagba faction alleging that Ikpea and his secretary were involved in some questionable activities.
"What peace is Dr Ladipo talking about when we still have a case with the Police?" Ikpea asked in a chat with Sports Vanguard. "How could he go to Abuja and sign documents without asking that the petition with the police be withdrawn. I don't understand the peace?"
The post Peace at last for Nigeria football supporters club – Ladipo appeared first on Vanguard News.