By Godwin Oritse
Port Facility Security Officers, PFSO , yesterday, called on the Federal Government to re-enforce security at the 'M. T. Egina' with a   view to protecting the investments in the facility, against the backdrop of porous state of security on the nation's coastal and territorial waters.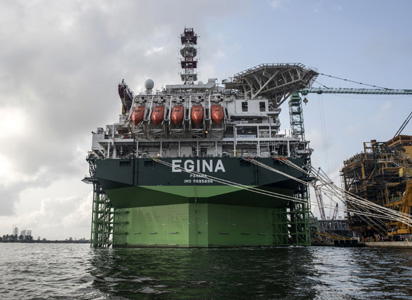 The Egina oilfield project is a $16.354 billion facility that was initiated by Total Exploration & Production Nigeria and the federal government through the Nigerian National Petroleum Corporation, NNPC.
Speaking at the PFSO monthly Forum held at Apapa, Lagos, PFSO Chairman, Mr. Ignatius Uche, said that the investment on Egina is too much to be left without adequate security arrangement.
Uche suggested that a Maritime Security Fund should be established to ensure the provision of adequate and proper security of investments like the Egina. He explained that the Fund could also be extended to other prime investments in both the maritime, and oil and gas industries.
He suggested that if every stakeholder is to contribute as little as N1,000 on a monthly basis, it will go a long   way in building such Fund. He commended the Lagos Deep Offshore Logistics, LADOL, based in Lagos for hosting the Egina in its base and providing the needed security.
"The Forum is very concerned about the security of the Egina because this is an investment the country cannot afford to toy with. I also think that the establishment of a maritime security fund will go a long way to take care of the Egina and every other investment in the maritime industry," he said.
The post Piracy: PFSO urges FG to increase security for Egina appeared first on Vanguard News.