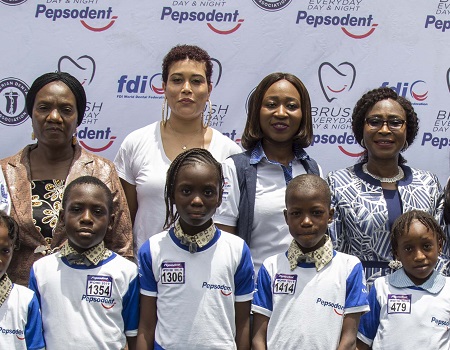 Parents, guardians and the government at all levels have been charged to take actions towards promoting children's oral health. This is as poor oral health has been linked to low self-esteem, poor social skills and school absenteeism in children, the President of the Nigerian Dental Association (NDA), Dr Evelyn Eshikena revealed.
Speaking during the 2019 World Oral Health Day celebration organized by Pepsodent in collaboration with the Nigerian Dental Association in Lagos State recently, the NDA chief explained that poor oral health is responsible for the rising cases of low self-esteem, poor social skills and school absenteeism among school going children.
 He enjoined children among other things to brush twice daily to thwart the negative trend.
"We need to encourage children to brush their teeth twice a day with fluoride toothpaste," she stressed, "and avoid foods and drinks high in sugars. We also need to prioritize regular dental checkups for ourselves and our children and we ask all adults and the government to take tangible action towards children's oral health.
"This is because poor oral health can negatively affect a child's confidence, social skills as well as a potential for success later in life. Oral health is, therefore, essential to a child's general health and well-being, Eshikena said.
ALSO READ: Buhari meets CAN leaders, says I'll leave Nigeria better than I met it
Reacting to the need for oral health promotion especially among children, the Head Dentistry Division, Federal Ministry of Health, Dr Bola Alonge said the practice will also ensure good health.
"The Federal Ministry of Health is proud to associate with Unilever Nigeria PLC, makers of Pepsodent fluoride toothpaste for sustaining efforts at making citizens appreciate oral hygiene. It is crucial to urge children and parents to give importance to regular brushing, twice a day – morning and before bedtime. Regular brushing forestalls oral diseases and ensures good health."
Commenting on Pepsodent's contributions to global awareness on oral care, Corporate Affairs and Sustainable Business Director, Unilever Nigeria and Ghana, Soromidayo George said: "We are committed to helping children and adults manage their oral hygiene to forestall absence from school, work and socialising. We have communicated this effectively in the days leading to the World Oral Health Day. We will forge ahead in this direction throughout the year.
"We have been consistent in raising awareness about the benefits of good oral hygiene and the prevalence of tooth decay (a disease that is preventable), not only in Nigeria but globally."
World Oral Health Day (WOHD) is celebrated globally to raise awareness about the connection optimal oral health to general health and well-being. Tagged 'Say Ahh!….Act On Mouth Health' the 2019 celebration was attended by 2,000 school children at the Teslim Balogun Stadium, Surulere, Lagos.
The post Poor oral health linked to low self-esteem, absenteeism in children appeared first on Tribune Online.