Manchester City manager Pep Guardiola has insisted the Premier League title is the most important trophy for his team to win this season, ahead of even potential Champions League success.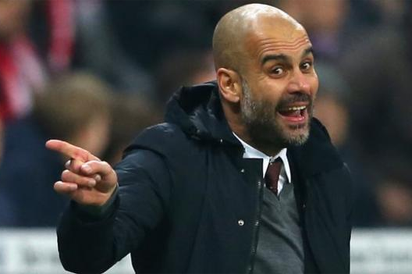 The runaway Premier League leaders already have one piece of silverware in the bag, after winning the English League Cup Final in convincing fashion against Arsenal at Wembley on Sunday.
But, as he prepared to face the same side in a league game at the Emirates, Guardiola is far more interested in the six victories that will make the English title a mathematical certainty for City.
"We are fighting for the most important title of the season by far, the Premier League," Guardiola told a news conference on Wednesday. "More important than the Champions League, more important than the FA Cup, Carabao (league) Cup. That is enough encouragement to be focused.
"The next six fixtures are terrible in terms of quality of the opponents, and we have four games away and we still have to win six games.
"When you think about Arsenal, you think about Chelsea, Tottenham and Arsenal and our away games — Stoke City playing (to avoid) relegation, going to Goodison Park (Everton) is always a tough game. We have a lot of tough games still to play and have to remain focused."
The Catalan coach has won a total of six titles to date in his productive managerial career — three in Spain with Barcelona and the same number of German league championships with Bayern Munich.
– 'Consistency' –
Now on course for his seventh league title in nine years of management in Europe's top divisions, Guardiola has no doubt where his priorities lie.
"The league is always the most difficult, a game every three days," he said. "It shows how good you are over 11 months.
"All the titles I have won, La Liga, Bundesliga, the league is the most difficult.
"In the Carabao Cup we won two penalty (shoot-out) rounds, Claudio Bravo saved them or you could be out. That is a toss of a coin, sometimes good, sometimes bad.
"The league is consistency, the players know that. They know exactly how important the league is for this club, for our futures. Of course we have to be focused, we know how tough it will be until the end of the season."
Meanwhile, Guardiola insisted he was happy to talk to the Football Association after his highly-publicised charge relating to wearing a yellow ribbon during Manchester City's recent FA Cup defeat at third-tier Wigan Athletic.
The 47-year-old was displaying the ribbon in support of four Catalans imprisoned in his homeland over issues relating to Catalan independence.
Having issued Guardiola with two formal warnings in December, the FA have charged him with "wearing a political message", although the City manager insists that, while he has yet to have direct contact with the authorities, he would be happy to talk to them.
– 'Belonging' –
"Of course I'm going to write a letter, explain my position," he said. "I'm available for the FA absolutely, it's no problem."
Guardiola also thanked City fans, some of whom wore yellow ribbons in support of their manager at Wembley in the League Cup Final.
"It was a feeling of belonging, so I'm grateful for that initiative," he said. "They don't have to do it because it is another country but they did it.
"That makes me happy, really happy because it helps people understand the situation, what's going on with people in prison in Spain. I'm 100 percent grateful to them."
Guardiola will be without the injured Fernandinho and Raheem Sterling for Thursday's visit to Arsenal, although he expects the latter to be available for Sunday's home game with Chelsea or the Champions League return leg with Basel next week.
The post Premier League still the greatest prize for Guardiola appeared first on Vanguard News.