Paris Saint-Germain remain optimistic that they can record what would be the biggest victory since the Qatari takeover of the club, even with Neymar out injured, when they face Real Madrid on Tuesday.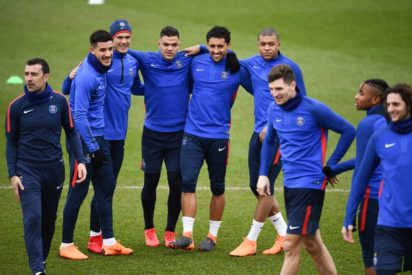 A late collapse saw PSG lose 3-1 in Madrid last month in the first leg of their Champions League last-16 tie. And they come into Tuesday's return without Neymar, as the world's most expensive player recovers in Brazil from a foot operation.
Despite that blow, and the prospect of having to overturn such a deficit against the two-time reigning European champions, PSG are not throwing in the towel as they bid to reach the quarter-finals.
"I think that we need games like this and to beat these teams to take a step forward and so that our opponents really take notice of PSG, and don't just think we have loads of money," said Dani Alves, who played in two Champions League final victories for Barcelona and was in the Juventus side beaten by Real in last season's final.
"I said last summer when I was presented here that I wasn't coming just to live in Paris or take the money. I came here because I am a competitor," added Alves, speaking to media at the Parc des Princes on the eve of the game.
Since Qatar Sports Investments bought the club in 2011, PSG have suffered regular disappointment on the biggest stage, with four successive defeats in the quarter-finals of the Champions League before the humiliation in Barcelona in the last 16 a year ago.
A failure to turn the tie around on Tuesday would mean PSG being eliminated by one of Spain's big two for the fourth time in six seasons.
"PSG have had their limits in this competition in the past and now we need to go beyond them to keep on progressing as a club," added Alves.
Neymar's absence is an obviously huge blow, but Alves and coach Unai Emery both insisted that Paris have enough quality in their ranks to cope without him.
"When one player is missing, it opens the door for someone else, and I know that whoever comes in through that door will do so with all their force," said Emery.
– Di Maria to step up –
Angel Di Maria, who won the Champions League with Real in 2014, is likely to be the major beneficiary of Neymar's absence.
The Argentine has been PSG's form player with 13 goals in 14 starts in 2018, although he has played just 67 minutes in the Champions League this season.
He has a point to prove, as does Emery — his contract expires in June and there is surely no prospect of a renewal in the event of a defeat on Tuesday, even with PSG on course for a clean sweep of the domestic honours.
"The Champions League is a very clear objective for the club. Every match is important, but this is a great opportunity to take a step forward," said Emery, who has lost just 10 of exactly 100 games in charge.
The pressure is also on Madrid coach Zinedine Zidane, albeit less so after the manner of their first-leg victory.
Cristiano Ronaldo, whose brace in the first leg took him past 100 Champions League goals for Real, is in form again and the Spanish giants have not been knocked out at this stage of the competition since 2010.
"We will need a different level of intensity than in the first leg, but we are ready," said Zidane.
On the hostile reception they will receive in Paris, where PSG have not lost in two years, the Frenchman added: "We are used to all that. We just need to play our game without thinking about how heated it might get."
Real travelled to Paris on Monday with Toni Kroos and Luka Modric in the squad, despite both battling to shake off injuries.
AFP
The post PSG gunning for Real Madrid scalp despite Neymar absence appeared first on Vanguard News.