Paris Saint-Germain are preparing for a race against the clock to get Neymar ready for their Champions League crunch clash with Real Madrid next week after he suffered an ankle injury against Marseille on Sunday.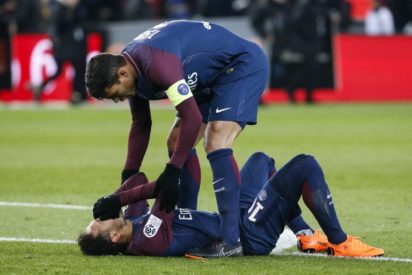 The Brazilian superstar was stretchered off in anguish towards the end of PSG's 3-0 victory over their great rivals at the Parc des Princes, having innocuously rolled his right ankle and flopped to the ground in pain.
With the game already as good as over, the stadium held its breath as the former Barcelona forward was treated and then carried away, with PSG forced to finish the match with 10 men having made all of their substitutions.
Paris coach Unai Emery said after the game that early examinations in the dressing room showed Neymar had twisted the ankle.
Le Parisien newspaper reported that the 26-year-old underwent tests at a hospital just outside Paris in the early hours of Monday that ruled out a "fracture or a serious sprain".
Speaking to French television after Sunday's match, PSG captain Thiago Silva said: "I'm not a doctor, but I don't think he'll be available on Wednesday (when PSG face Marseille again in the French Cup). He has to rest."
Le Parisien suggested that the world's most expensive player will definitely miss Wednesday's French Cup quarter-final at home against Marseille as well as next Saturday's trip to Troyes in Ligue 1.
Neymar himself posted a picture on Instagram of his right leg with the ankle and foot heavily bandaged. "08:10. Finished for today," said the caption.
The Champions League last 16, second leg against Real at the Parc des Princes in Paris on March 6 is just over a week away, leaving Neymar little time to recover fitness as PSG look to overturn a 3-1 deficit from the first leg in Madrid.
Despite the injury potentially benefiting Madrid, the Spanish side's coach Zinedine Zidane claimed he hoped Neymar would recover in time to play.
"I'm not happy with the Neymar injury and I hope he can be back for the game. I will never want a rival player to be out injured," Zidane said at a press conference in the Spanish capital.
His opposite number Emery said on Sunday night, as Neymar was leaving the Parc des Princes on crutches, that he was "optimistic" about the injury.
"We will be optimistic. If I had to say today (whether or not he will face Real) I would rather say yes," said the Spaniard.
PSG are 14 points clear of Monaco at the top of Ligue 1 after Sunday's game, but the Champions League is crucial to the French club, who lost to Neymar's Barcelona at the same stage last season.
The post PSG sweat over Neymar injury ahead of Real Madrid clash appeared first on Vanguard News.