Reaction to former Liverpool and England captain Steven Gerrard being named manager of Scottish giants Rangers on Friday: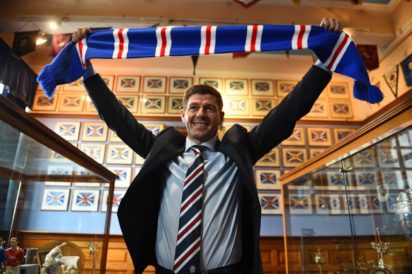 Pep Guardiola, manager of English champions Manchester City:
"I think the challenge is a lot. It is not about being in the past. Good football players can be good managers, exceptional managers are sometimes not good players.
"I admire his courage, a huge challenge, at one of the two most important teams in Scotland.
"It's important for all English players — like Gerrard, (Frank) Lampard, (John) Terry, (Paul) Scholes, (Michael) Carrick — it's so important they stay in football. They can help this amazing game and make it more beautiful. Good luck to him."
Celtic manager Brendan Rodgers, who knows Gerrard well from his time as Liverpool boss, said he was delighted for his former midfielder:
"He will have an idea in relation of how he wants to work.
"But certainly as a guy he was ultra professional.
"He had incredible quality as a player and, like I say, that level of professionalism he had in his career — that's what made him the great player he was.
"So, I'm sure he will take those attributes into his management."
Former Liverpool and England goalkeeper Ray Clemence tweeted:
"Congratulations and good luck to Steven Gerrard on taking on the Glasgow Rangers job. A big challenge in his first job."
Former Liverpool great John Barnes, who had an unhappy spell managing Rangers' great rivals Celtic, told the BBC:
"I suppose people may then say 'is it the right job, at the right time?' But if you want to be a manager, you have to show that passion and commitment, by going to a huge club, but possibly at a time when it's going to be difficult for him, but he wants an opportunity, and it's a great opportunity."
Former Tottenham and England defender Graham Roberts, who won the 1987 Scottish title with Rangers, tweeted:
"Well done to Steven gerrard on you appointment at rangers fc you will enjoy the atmosphere from great supporters bring the club back to the top good luck."
The post Reaction to Gerrard being named Rangers manager appeared first on Vanguard News.