Past reports of mutterings in the upper echelons of the Rivers State chapter of the All Progressives Congress, APC last weekend overflowed with state party leader, Chibuke Amaechi on the spot over alleged moves to derail the purported governorship plans of his loyalist, Magnus Abe
By Jimitota Onoyume, Asst News Editor
WILL the Minister of Transportation and leader of the All Progressive Congress, APC, in Rivers State, Mr. Chibuike Amaechi destroy his party or build it to victory in 2019?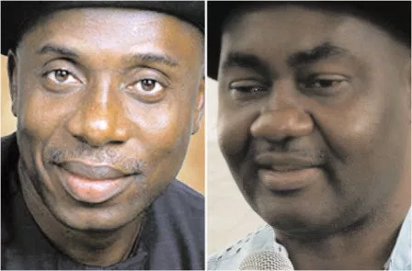 This has been the question on many lips since weekend when he removed some of his key associates from their positions as leaders of his caucus of the party in some local government areas. Those affected were his former Chief of Staff, Chief Tony Okocha, who was removed as leader of the caucus in Obio Akpor local government area;  his former Attorney General and Commissioner of Justice, Mr. Worgu Boms, Chief Allwell Nyesoh, and the member representing Ikwerre/Emohua constituency in the House of Representatives, Hon Chidi Wihioka.
Vanguard gathered that the sack was effected at meetings of the group last weekend. According to recordings of conversations at the meetings made available to newsmen by some of those at the meeting, Amaechi took the decision because of allegations that those affected were already routing for Senator Magnus Abe as the governorship candidate of the party by 2019.
Amaechi and Abe had come a long way since the Peter Odili hegemony over the state. At that time while Amaechi served as Odili's man in the House of Assembly, Abe subsequently rose to become Odili's commissioner for information. Abe eventually sided with Amaechi in the heated contest to succeed Odili and was with Amaechi in the trenches. When Amaechi eventually succeeded, Abe was appointed as Secretary to the Government and in the second term of Amaechi was pushed forward to the Senate with the Amaechi machine.
Abe had wanted to be governor of the state after Amaechi but was not as favoured as Dakuku Peterside who got the former governor's nod to be the governorship candidate of the APC after all of them moved out from the Peoples Democratic Party, PDP to the APC.
Amaechi, however, also backed Abe in the 2016 National Assembly re-run elections which turned into a war that was heavily influenced by federal forces marshaled by Amaechi.  With the sight of all persons fixed on the 2019 governorship, reports began to emerge of discord within the Amaechi group with claims that the caucus leader, Amaechi was not favourably disposed to Abe emerging as candidate.
There have been mutterings that Amaechi is rather disposed to oil magnate, Mr. Tonye Cole, a development that has not been well received by party activists. Those who spoke to the Vanguard on condition of anonymity said they would prefer to work for somebody they had bonded with for a long time as the governorship candidate of the party rather than one they consider a stranger to the party.
Loyal associates of Amaechi say that the crisis was triggered by those opposed to instructions that politicking for the 2019 ticket should wait till 2018. "What Amaechi said was that we should not campaign yet until 2018 and that we should take this time to build the party because we have battles ahead," a loyal associate of Amaechi's told Vanguard on condition of anonymity.
Okocha, one of those sacked by Amaechi told Vanguard that he was removed because of his political romance with Senator Abe. He said he had no regret with his preference for Abe to pick the governorship ticket.
"They just removed me now for supporting Senator Magnus Abe; the removal is to confirm that APC belongs to one man. Nothing to worry about because he (Amaechi) also appointed me. The one who appoints has powers to remove. He has (also) removed his former Attorney-General and Commissioner for Justice, Worgu. I support Abe because I believe he has the qualities. He has what it takes to win elections. I was not given the opportunity to defend myself. I was in Abuja when they removed me."
Senator Wilson Ake another APC chieftain who is also accused of routing for Senator Abe said it was unfortunate that a yet to be declared ambition could be tearing APC in the state apart. He said Abe had not told anyone publicly of a governorship aspiration as he wondered why speculations from some would be allowed to generate so much heat in the party.
"Magnus Abe was in the Senate with me. We developed mutual, respect for each other. I admire him as a very forthright and articulate young man. If there is any interest, he has I should not be against him. I know he has a quality that is admirable, anybody will want to give him encouragement. As it is he has not given me any open impression that he is going for the governorship. Until he declares publicly the position can be much clearer. For now,  he has not told anybody openly of any interest. So I don't know why the brouhaha in the party.
People are just speculating a whole lot of things. I know he has a lot of admirers right from the first instance when we joined APC in 2015. When the decision was made that it was going to be Dakuku even though he felt disappointed, I know he took it calmly," he said.
Even as he affirmed his support for Abe, Ake, nevertheless, pledged his loyalty to the Amaechi machine. "There is no strain in our relationship. Chibuike Amaechi is more like a family brother, going by his relationship with my late elder brother. There is no strain that should exist between us," he said.
Ake also rebuffed insinuations that the muttering was the reason he missed Amaechi's 52nd birthday party in Port Harcourt last weekend, saying he was at the airport to fly down for the event in Port Harcourt but missed the flight.
Political differences
"At the venue of the event, you saw some fliers in my name congratulating him. For me, politics is not supposed to be a do or die thing. Friendship should be sustained no matter our political differences," he added.
Meantime, Rivers state Chairman of the APC, Dr. Davies Ikanya has said the changes announced by Amaechi did not affect the structure of the party at any level in the state.  He said the caucuses were the political platform of Amaechi, so he had the powers to determine who held what position there.
His words "All members of the All Progressives Congress (APC) leadership in Rivers State are intact. From our ward officers to State party executives, no one has been removed or suspended from office. We are aware that our leader, the leader of the party in the state, Hon. Chibuike Rotimi Amaechi is making some changes in his personal political group, team or caucus in the State. It is his right and prerogative to make any leadership changes within his political team, group or caucus."
Ikanya also promised that the party would create a level playing field for all aspirants on its platform in 2019. How the Amaechi, who is also the leader of the party in the state, and other chieftains of the party manage the crisis, tension and bad blood already in the party before the elections in 2019 may determine its direction in the general poll.
The post RIVERS: Amaechi, Abe battle for APC's soul appeared first on Vanguard News.