Liverpool winger Mohamed Salah says it's too soon to compare him to the likes of Lionel Messi and Cristiano Ronaldo. The Egyptian winger has plundered 43 goals during a dream debut campaign for the Reds and has emerged as a strong contender for this year's Ballon d'Or.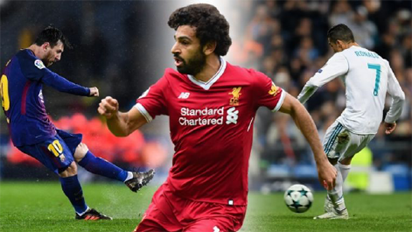 However, Salah believes he's not yet in the same bracket as Messi and Ronaldo.
"I don't want to say I am happy with these kind of comparisons," Salah told Egyptian TV channel ONE.
"Each of them has been at the top level for 10 or 11 years. Their performance level is stable.
"I need to maintain my performance levels high for many seasons. I hope I can do that. They are great players and hopefully I become happy with these comparisons."
Asked to pick the three best players he has ever seen, Salah went for Zinedine Zidane, Brazilian striker Ronaldo and Francesco Totti.Salah was just six years old when Zidane won the World Cup with France in 1998. The Liverpool star will come face to face with him in Kiev later this month when Jurgen Klopp's side face Zidane's Real Madrid in the Champions League final.
The post Salah rejects Messi, Ronaldo comparisons appeared first on Vanguard News.