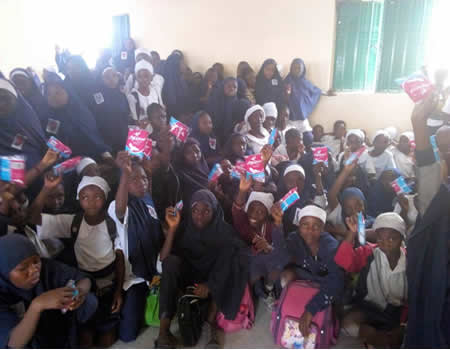 The Water Supply and Sanitation Collaborative Council (WSSCC) on Tuesday called on the Federal Government to reduce tax paid on the importation of sanitary pads to promote menstrual health in the country.
Dr Virginia Kamowa, the Technical Expert on Menstrual Hygiene Management (MHM), WSSCC made this call at the ongoing Training of Trainers Workshop on Menstrual Hygiene Management (MHM) in Makurdi.
According to her, poor access to sanitary materials, potable water and sanitation have been known to be a leading cause of loss of dignity for women and girls.
She noted that countries such as Tanzania, Kenya, Canada, and South Africa had reduced such taxes, adding that in the UK, it was compulsory for menstruation education to be taught as a subject in all schools.
ALSO READ: NYSC solicits NURTW's assistance to help corps members locate camp in Osun
She said that this had helped the countries to make policies which had promoted inclusion and better the lives of women and girls.
"A number of countries have started to develop programmes and integrate menstrual hygiene management in their policies including removing taxes for sanitary materials that women use when they are menstruating.
"Recently, the UN Council on Human Rights passed a resolution urging all countries to take a decisive action to ensure that women and girls have universal access to information on menstrual products and facilities that are needed for improved menstrual hygiene.
"So, it is important that Nigeria removes such barriers such as taxes so that women and girls will live better and more productive lives,''
Kamowa said that the council had realised that lack of adequate WASH services and MHM prevents girls from going to school, women from going to work, especially in informal work settings.
She said that this was also evident in some health care facilities which lacked WASH services to manage their menstruation, adding that since Nigeria was signatory to the SDGs, access to WASH should be prioritised at all levels.
She also urged the government to consolidate all efforts being made to scale up sanitation and hygiene, pledging the commitment of the WSSCC to continue to provide technical support to changing the narratives of poor WASH services.
Mrs Christiana Oliko, a representative from the Federal Ministry of Women Affairs, noted that women and girls living in the rural areas face restricted access or no information to services about their reproductive health and rights.
According to her, some of these barriers include discrimination, stigma, restrictive laws and policies entrenched in traditions.
She described as saddening that there was a conspiracy of silence and taboos on menstruation.
Oliko stressed that the onset of menstruation provided an opportunity to not only teach young girls about changes occurring in their bodies but also about fertility, saying "poor access to WASH affects school participation''.
ALSO READ: UNICEF trains 25 women on production of reusable pads
"Schools may also not have safe, clean or private toilets where girls can manage their periods, sometimes they are scared that classmates will notice they are menstruating and laugh at them.
"You will agree with me that menstrual hygiene management is key to healthy, productive and dignified lives for women and girls.''
The representative said that to ensure effective MHM for women and girls, the ministry had established a gender desk for proper coordination and implementation of health-related issues, in partnership with relevant MDAs.
She pledged continuous and strengthened collaboration toward improving the lives and dignity of women and girls in society.
Earlier, the representative of the Ministry of Water Resources, Mrs Ayaba Kogbara said that effort by the ministry to scale up WASH includes the inauguration of the Partnership for Expanded Water, Sanitation and Hygiene.
She said that the implementation had begun in Kano and Ogun states, saying with the recent declaration of national emergency in the sector by the president, the commitment had begun.
The post Sanitation council wants tax reduction on sanitary pads appeared first on Tribune Online.