Nigerian singer, Chidinma has revealed the kind of man she can't marry.
According to her, the man should be able to fight because she needs to be able to say 'my husband will f**k you up' with confidence.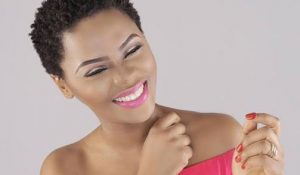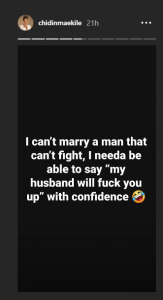 This is coming after the singer revealed that if she must brush to kiss her man in the morning, then that means they are not meant for each other.
Before now, Chidinma had before now listed qualities of her ideal man in a chat where she said:
"Is there ever an ideal man? I think he's just someone who understands me because I think that understanding is very key. He is someone with a very high level of understanding, intelligence and tolerance.
"With this business of mine, it takes someone who is very patientbecause some guys would say: "You took a picture and the guy was holding you this way and that…" It's crazy and it actually takes someone who understands, believes and trusts me totally. That is my definition of an ideal man. He doesn't need to have all the money in the world. It's very natural for girls to tell you that they want tall, dark and handsome guys."
"But sometimes, it doesn't work that way. I used to be like that back in the secondary school. My friends and I used to read a lot of Mills and Boons, so we had that idea of some tall, dark and handsome guys."
The post Singer, Chidinma reveals her kind of man appeared first on Vanguard Allure.