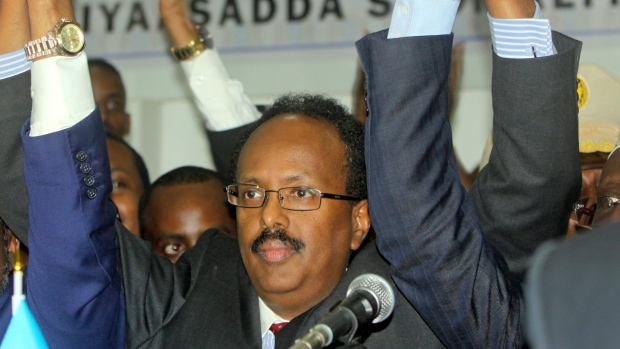 Somalia's parliament on Wednesday elected former prime minister, Mohamed Abdullahi Farmajo, a dual US-Somali citizen, as the country's new president.
Thousands of Somalis quickly took to the streets following the confirmation, chanting the new president's name.
The election followed a nearly 18-month exercise that included an extended parliamentary electoral process which was conducted in an air force hangar in Mogadishu amid rising security concerns.
328 members of parliament were said to have met in the hangar to cast their votes under heavy security.
Farmajo was declared victorious after Hassan Sheikh Mohamud, the outgoing president, withdrew from the contest following the second round of voting.
The UN Assistance Mission in the Somalia (UNSOM) has congratulated the new president while pledging to assist Farmajo in addressing the myriad of challenges that await his government.
This was contained in a statement issued on Thursday by Joseph Contreras, UNSOM spokesperson.
"The new president faces a daunting list of challenges in the coming months and years.
"We look forward to working with him and his Government in tackling the many economic, political, security and humanitarian challenges facing Somalia.
"It's an historic milestone in the country's emergence from years of chaos and civil war. We feel the process, though flawed in some respects by allegations of corruption and manipulation of some of the parliamentary voting, overall, produced some very positive results," he said.
Mohamud who took office in 2012, conceded defeat after losing 184 to 97 to Farmajo in the second round.
He congratulated Farmajo on his electoral victory as the 9th president of the country.
Farmajo in response thanked his immediate predecessor and his government for the achievements they registered over the past four years.
Muna Khalif, a member of parliament, said, "The future of Somalia is very bright and I'm hoping that as I see it is how people believe as well that the seat of change that has come will make Somalia great again."
Follow us on twitter @thecableng
Copyright 2017 TheCable. Permission to use quotations from this article is granted subject to appropriate credit being given to www.thecable.ng as the source.
Source: The Cable