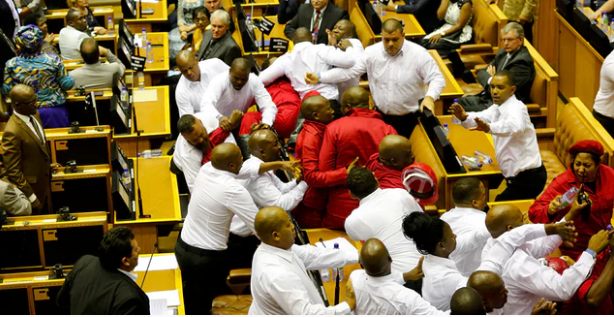 South Africa's parliament was thrown into disarray on Thursday when opposition MPs tried to scuttle the State of the Nation address by President Jacob Zuma.
The South African president was greeted with hostility by members of the Economic Freedom Fighters' party (EFF), who chanted "thief" as he made his entrance into the chamber.
Members of Zuma's party, African National Congress (ANC), attempted to counter the chants of "thief" by shouting "ANC, ANC."
Zuma twice tried to address the chamber but the EFF MPs continuously interrupted his speech.
Baleka Mbete, speaker of the parliament, tried to bring order to the chamber but Julius Malema, EFF leader, accused him of being partisan.
Malema said, "Your conduct has failed you. You are irrational, impatient, partisan."
Mbete replied, saying, "We have been patient with you, we have been trying to give you an opportunity to express yourselves but… it is being abused."
When it appeared that the EFF MPs were hellbent on disrupting proceedings, security guards were invited to take them out.
The lawmakers were forcefully ejected from the chamber but not before a few punches were exchanged.
Members of another opposition party, the Democratic Alliance, also staged a walk out, after which President Zuma was eventually able to address the chamber.
South African opposition parties and even factions of the ANC have of late called on Zuma to resign in the wake of corruption allegations.
The chaotic scenes at the parliament were captured on national television.
Follow us on twitter @thecableng
Copyright 2017 TheCable. Permission to use quotations from this article is granted subject to appropriate credit being given to www.thecable.ng as the source.
Source: The Cable