By Chinonso Alozie, Owerri
SOUTHEAST youths have been advised to forgive their leaders for failing to provide them the conducive environment to fulfill their dreams. Some of the leaders spoke to Southeast Voice at a symposium in Owerri, organized by Osiqwe Anyiam Osiqwe foundation.
A senatorial aspirant on the platform of the Peoples Democratic Party, PDP, in Imo State, and former chairman of Onne Oil and Gas Free Zone Authority, OGFZA, Hon. Chris Asoluka, said the youths should not see the failure of their leaders as an excuse not to succeed.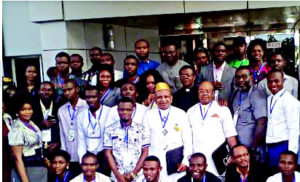 He said: "The take away of my talk was the apology for our leaders having failed to provide the environment that will easily bring out the best in the youths thus disposing them to criminality. It was unfortunate that they were pushed into that. But I also said it should not be an excuse because you would not because something did not work and you decided not to do anything and you tied yourself to what we call the blame game.
"Blame game will never put food on your table. Yes you know your past but the story is to create a perfect future. The issue of youth empowerment, I thought the youth would say, yes it has been abused. Instead of youth empowerment, I say it is time we shift away from the entitlement mindset because people have this entitlement feelings that somebody must solve my problems."
Economic transformation
On the issue of development, he said: "The importance of industrialisation and economic transformation on the continental level is reflected in both the 2030 agenda for sustainable development and Africa's agenda 2063. The Africa we want and at the national level are in both the NIPR document and the mission of the Oil and Gas Free zone Authority.
"As a defining concept, industrialization and economic transformation are critical for translating the national GDP, growth performance into longer term, inclusive, job-rich, and sustainable development. This is particularly important in light of the recent economic slow-down, triggered by low commodity prices and fall in demand from Europe and China."
He added, "Africa's growth is expected to strengthen again next year, and is likely to be based mainly on commodities exports, extractive industries and services. Job-rich growth in manufacturing is not yet a major part of Africa's story. Its economies continue to be particularly vulnerable to fluctuations in commodity prices and other external shocks."
However, the essence of the Southeast youth summit was captured by the coordinator, Mr. Peter Egbule, who said that it was organized to assist the youths particularly from the southeast region to identify their potentials as well as work on it. Egbule also said that the youths have the capacity that would make sure that their situation was changed for the better, adding that what the youths need at the moment was to remain focused and explore the variety of opportunities within their environment.
"The theme of this summit which is understanding and exploring youth-alienation values, ethics, education and orientation, focuses on a broad range of human development issues. The youths will have practical set of thinking as well as behavior that ensures sustained human development at all levels and in all spheres,"he said.
The post Southeast Youth Summit:Forgive us, we failed this generation —Leaders appeared first on Vanguard News.