Arsenal manager Arsene Wenger says suffering is all part of being a manager and admits he has had his fair share of late.
Yet the smile returned to the Frenchman's face on Friday after his side snapped a four-match losing streak to beat AC Milan 2-0 in the San Siro the previous evening.
Arsenal closed in on the quarter-finals of the UEFA Europa League.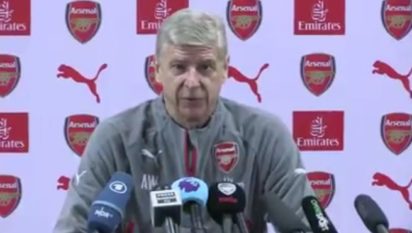 "Any manager will tell you that when you don't get results the first thing affected is the mood, the lack of sleep," Wenger said.
"I've managed in 820 or so Premier League games and 200 odd European games but there is no possibility not to suffer. You have to suffer. You have to be capable to go through periods when it's very difficult."
Wenger's future at Arsenal, where he has been in charge since 1996, has been a source of constant debate.
His team are down in sixth place in the English Premier League, having suffered a 3-0 thrashing by Manchester City in the English League Cup final.
He says he has had messages of support from past and current managers, even old adversary Alex Ferguson, and that finding solutions to problems remains an addictive part of the job.
"The desire to find solutions is interesting as well," he said. "When you are a young manager you think you can win every game but it's not like that. It is to survive the disappointments. It can make you a better manager."
Wenger says money and 'starification' has become too important in football.
"At the end of the day I have to stand up for what is important for the club," he said. "I am thankful that I have respect in the game. Football is first about values but my regret is that has gone underwater."
Wenger says some of the recent criticism aimed at himself and his players have been over the top.
"We have to have a little perspective. We got to a Cup final and we fight to be in a Cup final," the 68-year-old said. "We played against the best team in the country.
"We have been in four finals in the last five years and lost once, against Man City who is the best team in the country. So, it's surprising the intensity the storm the players have faced."
Arsenal face Watford on Sunday with their hopes of a top-four finish hanging by a thread, as they trail fourth-placed Tottenham by 13 points.
They will be without injured Alexandre Lacazette and Hector Bellerin against Watford while Sead Kolasinac is a doubt with an ankle problem.
NAN
The post Suffering is part of my job, Wenger says appeared first on Vanguard News.