•Could He Be Rohr's Joker In Russia?
By Desmond Ekwueme
Ajegunle in Lagos, the ghetto popularly called AJ City is renowned for producing accomplished personalities, celebrities and world class talents in vast fields of endeavors despite the tough, rough and hard situations and circumstances life presents and prepares for the people and the environment.. From actors like Charles Okafor now a Pastor to military chiefs like Brig-Gen. Dominic Oneya and Brig-Gen Raji Rasaki…to musicians like Daddy Showkey, Oritsefemi, Mad Melon and Daddy Fresh among others…..to David Izonritie the great Olympian cum boxer. We can go on and on.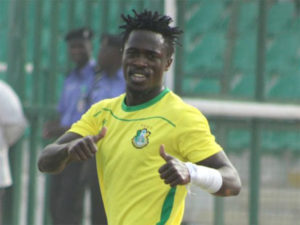 But perhaps the greatest field where Ajegunle has excelled most is football. Most of the big name footballers from Ajegunle featured for top local clubsides and in any tier or category of our national teams thus representing Nigeria at continental level either for club or country and or in any of the tiers World Cups. Henry Nwosu, Samson Siasia, Sam Nwobum, Tarila Okoronwanta, Monday Odiaka, Diepreye Teibowei, Jonathan Akpoborie,  Benson Adjiovie, Christopher Anigala, Peter Nekeiten,  Godwin Ekeh,  Gabriel Okolosi, Emmanuel Amunike, Albert Eke, Bobolayefa Edon, Taiwo Enegwa, Christopher Edem, Adewale Ogungbure, Alfred Omoefe, Ikpe Ekong, Essien Bassey, Timi Okponya, Segun Ekure, Jamiu Ajao,  Chibuzor Melkam, Moses Aduku,  Peter Ijeh, Muisi Ajao, Christopher Zibor, Fela Tom-Dollar, Ndubuisi Chukwunyere and Odion Ighalo. The list is inexhaustive.
Ajegunle is the home of football. From old St. Mary's Catholic Church Ground at Mba to Tego Ground in old Marine Beach to the famous Naval Barack (Mock Nations Cup) ground at Boundary to Maracana Stadium in Tolu, Ajegunle has continued to churn out great football heroes and heroines. Adaku Okoroafor, the right wing wizard of Super Falcons during the playing era of Florence Omagbemi cannot be forgotten.
Today, in the 30-man provisional squad of the Super Eagles is another of the ghetto soldiers. He is Junior Lokosa. Like every other upstart from Ajegunle, he attended Temidire High School in the Tolu schools complex housing over 10 secondary schools and 14 primary schools. Some of the secondary schools include Olodi Apapa Secondary School, Unity Secondary School, Adeolu Secondary School, Tin Can Island High School, Ojodu High School,  Alakoto High School, Reservation Secondary School, Ojora High School, Oluwa Secondary School, Creek High School, Newland Secondary School, Mokoya High School and Ojoku Secondary School among others.
It was from Temidire Secondary School that Lokosa's football talent manifested. He shone like a million stars in the Schools Management Committee (SMC) Cup and proceeded to explode in the Principal Cup. He was a star at the Mock Nations Cup.
It was from here that he was spotted by First Bank Football Club under coach Lukman Oshun who himself was an ex-junior international. From First Bank, Lokosa was recommended by scouts to Kano Pillars.
He is just a couple of seasons old in Pillars.  He was silent last season. But destiny delayed his glory till the World Cup year, 2018. Lokosa did not kick a ball in Super Eagles qualifiers for Russia 2018 FIFA World Cup. He was not known and was not invited. Not even the home-based Eagles handler, Salisu Yusuf, noticed or identified his talent easily.
This season is just 21 weeks old and the 20 year old has banged in 18 goals. Ironically, he did not feature in all the games played so far. On account of his goals,  he earned a look in from Gernot Rohr. Ordinarily, Lokosa cannot be in this "millionaires club" of Eagles players. Yes, millionaires club because 27 of the 30 players on the provisional list are foreign based.
He may make the final 23…He may not, but, what matters most is that this chap like the true Ghetto Soldier he is, bulldozed his way into the squad by sheer courage, hardwork, talent and God's favour. Whether he makes it to Russia or not, he has made a mark, caved a niche for himself and proven that there are real talents here in the domestic scene if only the coaches roll up their sleeves to work on them. He has also proven that the future of the national team is in the domestic scene…..and he has proven that good things could really come out of Israel, in this case Ajegunle.
The post The boy from Ajegunle appeared first on Vanguard News.