Governor Ifeanyi Ugwuanyi of Enugu state proffers solutions to Nigeria's lingering challenges suffered during electioneering periods
I must commend the Federal Government for creating this wonderful opportunity for the people of this country to vent their views and thoughts on the most effective ways to entrench a credible, acceptable and violence/rancour free electoral process in Nigeria after several attempts.

There is indeed no gainsaying the debilitating effects that our inability to conduct free and fair elections devoid of avoidable obstacles, has had on the growth of democracy and our development as a nation over the years.

These effects are to be found in the huge financial losses the country incurs in conducting elections that would turn out to be inconclusive; in the avoidable losses of lives and property arising from the violence that often trail elections and more importantly, in the general feeling of discontent, disenchantment and bitter litigations that follow each exercise.

Although it could be argued that it is not possible to conduct perfect elections anywhere in the world, yet the sheer volume of petitions and controversies that trail each exercise that we have so far conducted, underscores the need for incisive alterations and amendments to be made in our electoral process in order to eliminate the undesirable outcomes that we have continued to experience.

Among other things, the situation we find ourselves, clearly, suggests defects and drawbacks in existing electoral laws and in institutional frameworks that prevent us from addressing these recurrent issues adequately and conclusively.

Therefore, the Reforms we envisage would have to include an overhaul of or necessary amendments to the existing Laws and processes to ensure greater credibility and fairness in elections at all levels. The proposed reforms must also help us entrench the culture of respect for the will of the people as freely expressed through the ballot box.

I believe that the recommendations of the Justice Mohammed Uwais Electoral Reform Committee should serve as the background for the appreciation of any further reform measures.

This exercise affords us the opportunity for a robust engagement on the recommendations of the Committee as they affect strengthening and protecting the autonomy of INEC from political interference.

The issue of placing INEC on the First Line Charge and granting it financial autonomy should also occupy a preeminent position in our discussion. We should be able to determine whether it would still be necessary to agitate for placing INEC on the first line charge in view of the economic recession and the application of Treasury Single Account (TSA) policy in the country.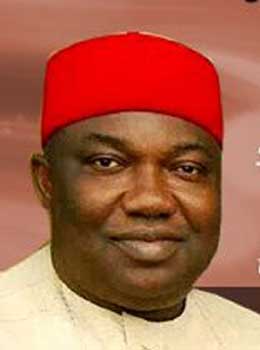 The Committee also recommended among other things:  The 'unbundling' of INEC – that is, the creation of other agencies to handle responsibilities being undertaken by INEC, which have overburdened it, such as constituency delimitation; registration and regulation of political parties; and prosecution of electoral offenders; and thus allow INEC to focus on its core mandate of organizing and managing elections.

The introduction of some form of proportional representation, to promote inclusiveness, especially in National and State Legislatures, and improve the representation of women, persons with disabilities and the youths.

Improvement of transparency and credibility of the conduct of elections, and eliminate persistent fraudulent activities, which are perpetrated with impunity in Nigerian elections.
Another area that should, in my humble view, be critically considered is the issue of pre-election litigations. A situation where a pre-election litigation runs through all the strata of courts in the country and even subsists after the winner of the election has been sworn in, is worrisome.
The question therefore arises as to whether it would not be necessary to set a time line for determining issues arising from party primaries and other pre-election matters just like in post-election petitions.

A situation where a person in one political party can go to court to question the nomination of the candidate of another political party is also worrisome. It is my view that our electoral law should be amended to deny such a person the locus standi to do so.

It is also strange and disturbing that, through some legal advocacy and judicial interpretation, some people who did not participate in an election are declared winners of the election.
There is therefore need for an unequivocal constitutional provision that any person who did not participate as a candidate in an election should not be declared the winner of the election.

Importantly too, we should consider the desirability or otherwise of applying the standard of Proof applicable in criminal cases in deciding election matters.

Generally, election petitions are decided on balance of probabilities except where there are allegations of commission of crime. We must however realize that virtually all grounds of petitions are either crimes or have criminal elements. Even the ground of non-compliance with electoral laws has been extended to include acts capable of placing obstacles on the way of or obstructing voters and candidates such as thuggery, intimidation, snatching of ballot boxes etc.
These are all criminal offences which, in accordance with Evidence Act, must be proven beyond reasonable doubt by the person who alleges them. Ordinarily, it is the state that bears the responsibility of prosecuting crimes and bearing the enormous costs of investigations. Transferring this burden to an individual, who has just lost an election, certainly amounts to limiting his chances of proving his claims in view of the high costs involved.

Moreover even where the allegations of crimes are proven beyond reasonable doubt, the respondent will not be convicted and punished accordingly because the criminal assertion in election petitions is not to secure convictions but to discredit the result of the election in favour of the petitioner.

The question then is: Since criminal proceedings and procedures are not adopted in election petition proceedings in respect of allegations of crime, what then could be the justification for the adoption of the criminal standard of proof in such proceedings in respect of some allegations?
Again, we find that sometimes the crimes being complained of are committed by officers of the electoral commission who are shielded from being made parties to the election petition.
The Electoral Act 2010 (as amended), provides in section 137 sub section (3) as follows:"If the Petitioner complains of the conduct of an Electoral Officer, a Presiding or Returning Officer, it shall not be necessary to join such officers or persons notwithstanding the nature of the complaint and the Commission shall in this instance be: (a) made a Respondent and (b) deemed to be defending the petition for itself and on behalf of its officers or such other persons".

The above position of the law simply makes it impossible for the perpetrators of electoral crimes to come to the tribunal as parties therefore, presenting a situation where a crime would have to be proved beyond reasonable doubt against INEC which may not have committed such crimes and which cannot be punished for such crimes.

It is my view therefore, that the Electoral Act be further amended to accommodate and stipulate in clear terms the degree of proof that would be required where allegations of crimes are made other than proof beyond reasonable doubt.

Other areas I believe should be looked into include:The issue of electronic devises or processes not being admissible in court as evidence. If this must remain so, then the Evidence Act should be amended to accommodate their admissibility.

Strict Enforcement of Electoral Laws. Violators of electoral laws should be appropriately sanctioned without fear or favour.
Full computerization of Electoral processes. The Smart Card Reader currently in use only verifies the authenticity of the permanent voters' card and I am of the view that the electoral body should adopt an automated system that will cover registration, voting, collation and computation of results. This will help minimize electoral fraud.

Reforms in our Electoral processes are without doubt very critical since it is generally accepted that free and fair elections not only constitute the pivot upon which democracy thrives and grows but it also guarantees the peace and stability needed for the rapid and holistic development of the nation.

It also needs not be emphasized that the severe economic and security challenges currently facing our country today, makes it imperative for us to do all that is necessary to reduce tension in the polity, enable us focus attention on national development and also reinvent among our people, a sense of patriotism and unwavering belief in our country.

The enactment and introduction of laws and processes that guarantee free, fair and peaceful elections would certainly be a major step towards the attainment of this objective.
Therefore as a people and notwithstanding our political, ethnic or other social differences, we must join hands together to find lasting solutions to those lapses in our electoral system that have continued to undermine democratic growth and consequently, the peace and progress of our dear country.

This I believe, is the purpose of this exercise. I therefore, most humbly, invite all of us to participate actively and attentively in the programme.
Your Excellencies, Distinguished Ladies and Gentlemen, I thank you once again for coming and I wish all of us a successful and fruitful deliberation.
Thanks and God bless
*Being speech delivered by the Enugu State governor, Rt. Hon. Ifeanyi Ugwuanyi, at the zonal public hearing on electoral reforms in Nigeria
The post The imperatives of credible elections devoid of obstacles, by Gov Ugwuanyi appeared first on Vanguard News.