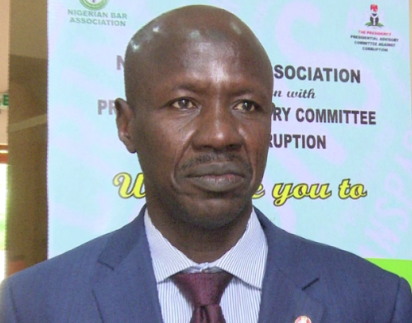 Frontal fight against corruption: It does not matter to them that apart from the high integrity quotient of Buhari, their party's and indeed Buhari's flagship campaign promise of a frontal fight against corruption was the other major reason Nigerians voted massively for the All Progressives Congress (APC) in the 2015 presidential election. Nor do they feel embarrassed that despite belonging to the same APC party as President Buhari and being the majority in the upper parliament, APC senators are unable to muster the required insight and unity of purpose that would lead to a seamless confirmation of Buhari's nominee as head of a strategic agency primed to actualize a top agenda in their party's manifesto. Understandably, some of them, including opposition PDP senators, are already being vigorously prosecuted for all manner of crimes by the EFCC. Thus, to them the nominee represents a creeping affliction that would effectively checkmate not just their own relentless pursuit of unconscionable excesses, but also that of similar selfish elite groups that have conspired to hold down the development of this country. Therefore, Chairman of EFCC can and should be anyone else but Magu, they must have resolved.
The politics of Magu's confirmation
appeared first on
Vanguard News
.
Related articles
By Godwin Onyeacholem Following an initial setback caused by a purported security report on which the senate relied for suspending Ibrahim Magu's confirmation as the substantive chairman of the Economic and Financial Crimes Commission (EFCC), President Muhammadu Buhari has rightly written back to the senate requesting Magu's confirmation, having been convinced of the futility of the so-called report prepared by the Department of State Services (DSS). Besides succumbing to wise counsel, Buhari's decision aligns with the popular expectation of a great majority of the people who want to see Magu continue the excellent job he is doing in his acting role at the helm of the country's foremost anti-corruption agency. Indeed, the voice for his retention has been so resounding that were Nigerians to cast a ballot regarding his continuation, the result would be returned overwhelmingly in his favour. Yet, for him and the success of the anti-corruption campaign, the senate hurdle remains an albatross. Despite Buhari's letter reiterating the crucial importance of checking the corruption scourge and appealing for a favourable acceptance of this nominee in view of the need to sustain the prevailing momentum and capacity of the EFCC, the body language of the senators is decidedly against this sentiment.