By Udeme Akpan, Sebastine Obasi & Michael Eboh
Total Exploration and Production Nigeria, TEPU, and other stakeholders have intensified efforts toward the completion of the full integration of FPSO in Lagos.
A visit to Ladol yard over the weekend showed that a team of indigenous engineers were working to meet the July, 2018, target for the sail out of the facility to the Oil Mining Licence 130, some 200km South of Port Harcourt, Rivers State.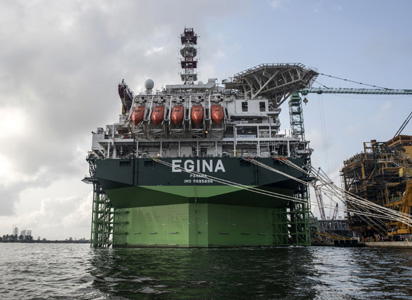 Nicolas Terraz, the Managing Director, TEPU informed the House of Representatives committees on local content and gas, that visited Egina FPSO, Friday that: ''The plan is now to complete these integration works within a period of six months, and our target is to achieve the sail away of FPSO to its final location in Egina Field by July.
"Let me assure you that Total is working relentlessly to deliver this project within the initial budget of $16 billion and even below that.
"Total Upstream Nigeria Ltd. is proud of this achievement. Today, we want to share this pride with you and express our thanks for your support.''
The Chairman, House of Representatives Committee on Local Content, Emmanuel Ekon,   described the Egina FPSO as a pride for Nigeria.
Ekon said: "What I am seeing means that local content is working. Egina Project was the first project after the Local Content Law was signed. A lot has been said about local content on Egina FPSO project; so, it was necessary for me to lead the members of the Committee on Local Content to come and see the Egina FPSO.
"Our presence here has answered a lot of questions. I am happy local content is working, but there is a lot more that we can do. I am satisfied; integration is done here, this is a plus for us."
Frederick Agbedi, Chairman, House of Representatives Committee on Gas Resources, also hailed Total for the feat.
He said that the committee members were satisfied that 80 per cent of local content was considered in Egina FPSO.
A few days earlier, the Senate Ad-Hoc Committee on local content had commended Total and its partners for the remarkable progress made towards the completion of the FPSO.
Senator Omotayo Alasoadura, had said, "Seeing the Egina FPSO has shown that a good investment has been made to ensure that Nigeria moves deeper and deeper into the sea to exploit its God-given endowment of oil.
The post Total, others intensify efforts to integrate Egina FPSO appeared first on Vanguard News.