By Jacob Ajom and Cynthia Alo
Worried about the plight of their former colleagues whose lives and times have been subject of serious concern to Nigerians, ex-Nigeria internationals in the United States of America, will on July 29 organise a youth soccer training clinic for recreational soccer clubs and individual players in Lithonia, Atlanta.
Organised under the auspices of Nigerian Ex-International Footballers Association (NE-IFA), the aim of the training clinic is to advocate better quality of life of former Nigerian internationals in Nigeria and around the world, who, following their days on the pitch, have not had the opportunities for education, decent jobs, or access to healthcare.
According to the President of the Nigerian Ex-International Football Association, Francis Moniedafe, the occasion will culminate in a fund raiser with proceeds to be channelled for the welfare of its needy members, back home.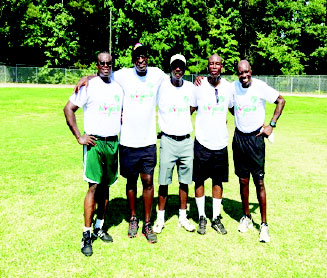 "Our main goal is to seek ways to support former teammates who are passing through hard times." Our Association is made up of qualified members in a number of fields including, Engineering, Business, Elite Academy and University Coaching. While we have thrived as individuals, some of our teammates back home have not.
"We have seen some of our teammates die prematurely and in abject poverty as they had no opportunities for education, decent jobs or access to health care".
He disclosed that the association made some donations to Sunday Eboigbe, late Peter Anieke, Christian Madu, most recently Kelechi Emetiole of blessed memory.
"Another of our goal is to get Nigerian kids from back home to come to get an Education like we did." The association boss said it has not been easy achieving this goal. "It has been an up hill task, as every kid in Nigeria want to go professional."
The famous saying "many are called but few are chosen"
"We are having a weekend of fun starting Friday July 28th and culminating in our Fundraiser/Convention on July 29th  at Akwa Ibom House Old Cook Road in Atlanta,GA,"Moniedafe said, adding, "we are scheduled to pay a courtesy on the Consul General, Nigeria Consulate Atlanta, then a meet on Friday night at Ike's Cafe and Grill Restaurant
with Chief Segun Odegbami MON in attendance."
He noted that the event is not all about fun as the association hopes to spread the news of sports and education going together.
Other members of the association include Tony Igwe, Totty O Totty, Godwin Odiye, Emeka James, Hamilton Green,Danian Ogunsuyi, Chigozie Ofor, Patrick Olalere, Godwin Iwelumo, Eddie Oyakhilome, Sam Okpodu, Kenneth Boardman, Thom-Maneul, Charles Okoye, Segun Adeleke, Francis Okaro and Charles Kanu and Michael Nsuk.
Francis Moniedafe, President, Dr. Femi Olukanmi Vice President whileNathaniel Ogedegbe is the Secretary,
The post USA-based Nigerian ex-internationals organise soccer clinic appeared first on Vanguard News.