Arsene Wenger on Wednesday said he was "amazed" at fresh speculation over his future as he prepares his team to face Manchester City just days after Arsenal's League Cup final humiliation against Pep Guardiola's men.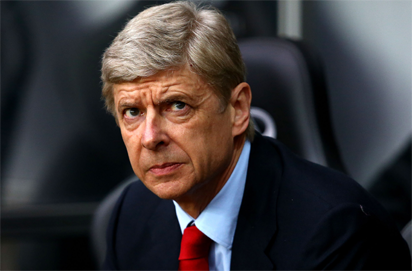 The Frenchman has come under sustained fire since an abject display in Sunday's 3-0 hammering at Wembley but must now lift his team to take on the Premier League leaders on Thursday.
Arsenal's season is threatening to unravel — they are 10 points behind fourth-placed Tottenham Hotspur in the Premier League table and look set to miss out on Champions League football for a second consecutive year.
They are out of the FA Cup and will face Italian giants AC Milan in the last 16 of the Europa League, which is their only remaining chance of winning a trophy this season.
Arsenal's limp display led to stinging criticism from former Manchester United and England defender Gary Neville as well as former Gunners Ian Wright and Thierry Henry.
But Wenger, speaking at his pre-match press conference, responded with apparent shock when asked if the result meant his long tenure was now under increased threat.
"I am just amazed that I have to always answer things that are exactly the same," said the 68-year-old.
"I am here for 21 years, I turned the whole world down to respect my contracts. So I am still amazed that I still have to answer these types of questions.
"My position is my position. Honestly, that's the last worry I have at the moment. My worry is to focus, to get the team ready for tomorrow's game."
The Frenchman defended the performance of his players at Wembley, where several were labelled as "spineless" and a "disgrace" by match commentator Neville as they were shown walking when out of possession.
"You can always get out pictures from a game that justifies what you think, you find in every single game, on both sides, moments where a player doesn't track," he said.
"After you have to analyse why, has he made two runs before to go in behind and was exhausted, or did he not track because he didn't want to? That is different.
"I believe we have to live with that criticism and respond together like we always do.
"We didn't play against a poor team in the semi-final, we played against Chelsea and we have shown that we can fight. You have to acknowledge as well that Man City are a quality team."
Wenger's hopes of avenging the Wembley defeat have been further hit by the announcement that Nacho Monreal will miss the game through injury.
The 32-year-old defender had been one of Arsenal's better performers this season before a back injury forced him off less than half an hour into Sunday's final.
The post Wenger's hopes of avenging the Wembley defeat have hit appeared first on Vanguard News.