By Nwafor Sunday
Dr. Kenfield Griffith PhD, the Chief Executive Officer and Co-founder of mSurvey, has shown commitments towards moving Nigeria's economy to a higher level by launching 'mSurvey', an internationally recognized Mobile-first consumer feedback platform in Lagos, newsmen report.
Speaking to Vanguard Dr. Kenfield said that the platform's arrival in Nigeria is to help businesses grow their bottom-line revenue as he equally noted that time has come for organizations to have immediate response from their consumers.
"West Africa is an extremely important market for us to expand into, and we are excited to be bringing mSurvey products, as well as the Net Promoter Score to Nigeria.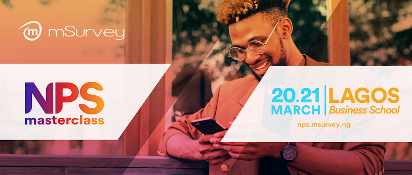 "From initial conversations with businesses from corporate to SME-size here, it is clear that there is growing trend in the country to add value to the bottom-line through improved and more granular understanding of customers, powered by tech and mobile", Dr. Kenfield said.
Explaining the platform, Dr. Kenfield opined that mSurvey is the only global mobile-first consumer experience and feedback platform leveraging SMS and mobile messaging technology to simplify access to credible, on-demand data from Africa and other emerging regions.
Launched in 2012 in Nairobi, Kenya, the CEO said that mSurvey's robust platform enables users to engage in real time conversation at scale, connecting them directly to people anywhere and on any topic.
Similarly, through delivering of elusive data from hard-to-reach communities, mSurvey quenches the thirst for fresh, credible data that powers growth, ideas and innovation.
The platform also serves customers, provides unprecedented access to rich, real time data from select or random population in Africa.
However, when asked for his reasons behind launching 'mSurvey' in Nigeria, Dr. Kenfield answered "Nigeria, like many other African markets is a great opportunity for businesses. With the growth of these markets and the open canvas for looking at solutions through a different lens, we see opportunity for a new kind of economic shift."
Speaking further he posits, that mSurvey can add value to Nigeria's economy. In his words, "Nigeria has a very large consumer population and as such we believe there's intrinsic innovation at the heart of this. If you wish to understand an economy, it is important to understand its consumers, and we believe mSurvey can add value to that equation."
Analyzing the growth and survival of the platforms amidst incessant attacks from herdsmen, Boko-Haram and other aggrieved groups in the country, Dr. Kenfield intelligently said, "There are instabilities globally, that are not just prescribed to Nigeria. We however believe by providing the right variables and fundamental access, to push economies forward enables business to happen and hopefully reduce instabilities."
However, Dr. Kenfield believes that partnerships are key to building a successful ecosystem and as such pledged to treat their customers as both customers and partners in Nigeria.
"Today, mSurvey is revolutionizing how businesses create interactive and individual relationships with their customers by providing unprecedented access to real-time, direct feedback that empowers them to have conversations at scale", he finally said.
The post We're in Nigeria to help grow businesses – mSurvey CEO appeared first on Vanguard News.