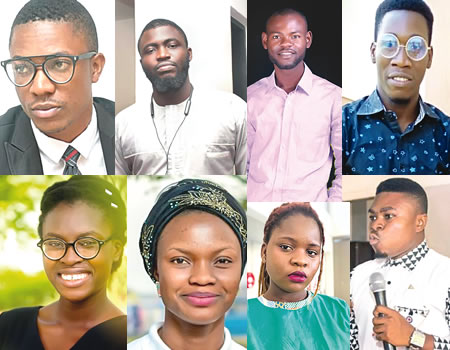 Given the violence, conspiracy theory and rife voter apathy that marred the 2019 generation elections conducted by the Independent National Election Commission (INEC), there is currently a nationwide crusade for the improvement of the country's electoral process to prevent future electoral fraud and misconducts.  OLASUNKANMI OSO sampled the opinions of Nigerians to enquire what they think could be done to salvage the ills of 2019 elections come 2023. Their views:
Abayomi Adeola
There should be a safer mode of voting. Rather than use plastic boxes usually used to sell puff-puff on the roads, a better material could be used like ceramics or something stronger that would reduce the risk of ballot-box snatching. Digital voting could be introduced. This could reduce rigging, voter's card problems and political apathy, thereby making voting more interesting. People should be educated on the advantages of voting and the voting process and why there should be no buying and selling of votes. Greater percentage of people should, at least, have fundamental amenities and access to basic needs at affordable prices. This would prevent buying and selling of votes.
Oyeleye Emmanuel
The ills of the 2019 elections could be corrected when there is restructuring on how political parties are formed and what status should govern their operations. Parties with little or no structure should not be recognised. Too many parties do cost us a lot. Also, military interventions in electoral matters should be checked. However, revamping the security apparatus of the country is pivotal to a successful 2023 elections.
Olabisi Olatunde
To have a better election process, the government should eradicate the use of ballot papers. With the advent of technology, electorate should be able to vote wherever they are. The process of PVC registration and collection constituted the ills associated with the just concluded elections. Apart from the process being frustrating, it was very easy to manipulate. INEC could liaise and work with banks so that the electorate could use their BVNs to vote. More so, people should be able to vote wherever they are. The stress of travelling to their respective states to vote is not encouraging. Also, e-voting should be employed which would enable fast and unbiased result collation and announcement. E-voting would encourage many people to vote and also reduce rigging.
My dad got me N.35m job in Abuja to discourage me from politics —25-yr-old Oyo legislator-elect
Zainab Olaitan
A lot of things were wrong with the 2019 elections. What I would focus on is the massive voters' apathy. In a country with the largest population on the African continent, it saddens the heart to experience such low turnout of voters. Apart from INEC upgrading the technology involved in voting to allow for seamless process of voting, it would be nice to see Nigerians more enthusiastic about voting. So come 2023, better electoral process and large voters' turnout would, to an extent, aid our democratic process.
Ipaye Olasunkanmi
There were many maladies in the just concluded elections, ranging from logistics problems, lack of security, etc. However, INEC needs to work more on voters' education. For INEC to curb the aforementioned problems, I would suggest they automate the election processes come 2023. This would reduce cost and ensure effectiveness of the electoral process. For instance, the University of Ilorin Students Union conducts her election through e-voting. As a student, you could vote from any part of the campus. Countries like India, Netherlands, Brazil, etc. make use of e-voting in the elections. If INEC is truly consolidating our democracy, they should be innovative in terms of e-voting. This will go a long way to save lives and curb the ills of 2019 general elections.
Segun Bamidele
I would comment on three things as regards this. First, the list left no room to regulate people. For example, if I leave my state to another state, it should be noted once I decided to register in the new state I settled in. But, NO. Your name still belongs to the old state. Imagine how many people had travelled or died since the first list was published. Second, most of card readers could not identity PVCs or fingerprints. Therefore, there was no way of checking and sending such information. Third, some PVCs were bad. For example, all letters in my PVC have been washed off even my picture is so dark that I could not recognise my face. I would suggest they make the cards same way our ATM cards are, and we could vote anywhere we are same way we use the ATM machines.
Ekenedirichukwu Ahaneku
E-voting would be ideal for Nigeria. In many places, during the 2019 election, people were disenfranchised by thugs from party X on finding out that party Y would get a bulk vote from the electorate. But with e-voting, through the use of open system, people's votes would be easily collated as soon as they cast their votes. This is better than the current electronic card reader system currently in use. It is obvious that a lot of wards and local governments' results were released without proper confirmation of the number of votes recorded with the card, which flawed the system. No doubt that cybercrime exists, but with the best set of IT managers we could record minimal cyber hacking in relation with the rate of electoral successes that would be recorded.
David Ejim
I believe the changes which would make a significant impact on our elections require a change in the electoral laws and political will of the electorate, two things I do not see being present. I would recommend the following: first, automatic enrollments of all citizens upon attaining the age of 18 in the voter's register; second, we need to automate the voting and collating process—there is absolutely nothing stopping most people from securely voting from home; third, political party reform—parties should require a minimum threshold of support to compete. I believe that though political party registration should remain as easy/difficult as it currently is, not all parties should be allowed to field candidates simply by virtue of their existence.
The post What do you think could be done to correct the ills of 2019 elections? appeared first on Tribune Online.