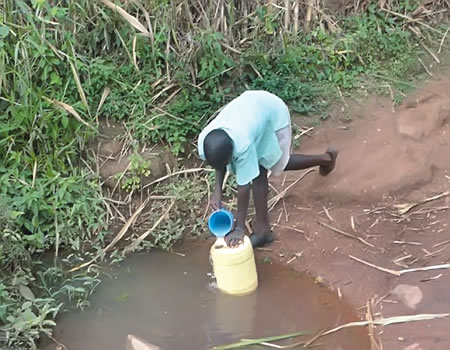 FRIDAY, 22 March was World Water Day, but the reality all over the world, especially in Nigeria, is that a huge percentage of people still lack access to clean and safe water. The day was also a reminder that while the country tags along with other nations of the world in mouthing popular slogan like 'Water for all by 2020', the reality on ground is that actions are not often matched with words.
It is on record that Nigeria has not met its Millennium Development Goals while other countries have moved on from MDGs to Sustainable Development Goals. It is not an aberration to state that Nigeria's inability to meet the MDG goals for water supply and sanitation that ended in 2015 was as a result of lack of commitment by concerned authorities at the state and local government levels. With the coming of the SDGs, Nigeria, no doubt, is still grappling with meeting its set target.
The UNICEF report on Water supply, Sanitation and Hygiene (WASH) said only 26.5 per cent of the population use improved drinking water sources and sanitation facilities, leading to about 23.5 per cent of the population defecating in the open.
Statistics also showed that access to pipe-borne water services in the country which was 32% in 1990 had declined to 7% in 2015, while access to improved sanitation also decreased from 38% in 1990 to 29% in 2015.
The situation was so serious that in November 2018, President Muhammadu Buhari declared a state of emergency in the water sector by launching the National Action Plan for Revitalisation of Water Supply, Sanitation and Hygiene. Despite this call to action, Nigeria is still lagging behind in achieving the Sustainable Development Goal 6 which includes access to safe and affordable drinking water for all by 2030.
At the launching of the plan the president said: "Let me reiterate that provision of potable water supply, adequate sanitation and hygiene are primarily the responsibilities of state and local governments. However, these are not being given the required attention judging from the high prevalence of water-borne diseases that are being reported in different parts of the country. We cannot and will not continue to allow these preventable occurrences to decimate our population."
Effects of poor access to water
Poor access to improved water and sanitation in Nigeria, according to reports, remains a major contributory factor to high morbidity and mortality rates among children under the age of five. The use of contaminated drinking water and poor sanitary conditions, experts claimed, has led to an increase in vulnerability to water-borne diseases, including diarrhoea which leads to deaths of more than 70,000 children under five on an annual basis.
In most parts of the country, it is not uncommon to see women and children trekking long distance to fetch water for domestic use. Some of the children who attend school often wake up very early to fetch water before going to school. Many times they get there late.
The world standard of daily access to 50 litres of water appears a mirage too, considering investigations in Nigerian tertiary institutions which are supposed to be model communities.
At Obafemi Awolowo University, Ile Ife, Osun State, a female postgraduate student who spoke to Sunday Tribune under the condition of anonymity on the problems she faces over water scarcity revealed that: "Water scarcity within my hall of residence is a pressing issue. It is an unpleasant situation that disrupts my schedule as a student and reduces my diligence as I often go late for appointments or cancel them altogether due to the distance of the only available source of water to my block.
"My roommates and I stay awake all night on several occasions in order to get water at a distance of about 1km from our room. I usually experience chest pain when I carry buckets of water over such a long distance. This makes me to visit the health centre regularly. I sometimes take a keg to the church in town at every opportunity to attend the weekly services. The upsetting part is that I have to leave my hall of residence to a more comfortable environment such as banks, eateries and my department to use the toilet," she revealed.
Water all around, too little to drink 
Even in Lagos, the country's commercial nerve centre, water is scarce. The city's oldest water treatment plant located in Iju on the Ogun River was built in 1910. A large number of residents depend on the itinerant mairuwa for their daily supply of water. Over the years, many others only have numerous private shallow wells and intervention pipe borne water projects as source of their water supply.
At Ojota most of the water used for commercial purposes in restaurants are sourced from the mairuwa who buys the water for N20 per gallon and sell for N50. On a daily basis, according to a mairuwa, who comes from as far as Kara, Magboro and Isheri to engage in the business at Ojota, he make an average of N1500 naira on a daily basis.
For the Lagos communities which do not have access to potable water, Non Governmental Organisations serve as their saving grace. The NGOs either construct or rehabilitate existing water projects which are closely monitored by community leaders.
Inside such communities, those who can afford sachet water still patronise the sachet water sellers, while those who cannot get their daily supplies from the renovated water projects.
A sachet water producer in Ikorodu area Lagos told Sunday Tribune that her business is driven by the lack of potable water in the area and mostly because many people are scared of contracting water-borne diseases.
«Most sicknesses today are as a result of people drinking unclean water. It is better to buy a bag of pure water for N150 naira and be sure you are drinking good water than spending thousands of naira on treating sickness,» said the woman who said she makes between N15,000 and N20,000 daily.
Problems of digging well and boreholes
Given the fact that government has failed to provide potable for its citizens everyone now provides their own source of water. Those who have the wherewithal dig boreholes, while those who are not financially well-to-do dig wells. However, all this personal efforts to provide sources of water have their own effects on the environment.
A foremost geophysicist, Dr Abraham Adepelumi of OAU, Ile-Ife, lamented the fact that Nigerians do not have access to hygienic water and spoke on his excruciating experience after drinking polluted 'ozonised' bottled water, noting that water from a borehole is not totally wholesome.
"The indiscriminate digging of boreholes causes water pollution. In fact, all the categories of water we have access to – hand-dug well, boreholes, rain water harvesting – are all unhygienic. In most cases, they are all susceptible to bacteria whereby the water is not well-treated. The surface run-off of water might get into the underground water that people are tapping from. This has happened to me before where my three children were having malaria as a result of the water we were using. The water from the hand-dug well looked clean, but when we took it for analysis, I blamed myself.
"Worse off, the borehole that people drill is not deep enough. All the run-off (when rain falls) disappears underground after some time. Most of the water sources we have in this part of the world – shallow borehole, hand-dug well, or rain water harvest – are not hygienic. Even bottled water is not safe. I once bought two bottles of water in Ibadan, on my way to Ile-Ife. Between Iwo Road in Ibadan and Ife, I visited the toilet up to five times. I nearly died, having developed diarrhoea immediately," he lamented.
Speaking further on the likely environmental problems which indiscriminate drilling of boreholes might cause, Dr. Adepelumi who is also a member of the 2018 presidential committee on earth tremor observed that "when there is a cluster of boreholes in a small area, a void is being created underground, and this could create an imbalance (in the earth surface)."
Advancing possible solutions to overcoming drinking polluted water, the researcher noted that: "In advanced countries, it is the responsibility of the government to provide water. Hence, the Nigerian government, both federal and state, has to arise now to the construction of large dams. The existing ones could be resuscitated. As large as Ibadan is, Asejire dam can supply half of the city, if properly treated, rehabilitated and channeled. There are dams in other parts of the country too, which could be rehabilitated for the communities around the dams too.
"And if it is borehole, government can drill industrial boreholes – boreholes that go at the depth of 1/1.5km. This industrial borehole can be networked to communities or estates. Instead of having 100 shallow boreholes that give unhygienic water, just one industrial borehole will provide extremely clean water. I am in support of the situation where we will no longer have a cluster of boreholes but strategically located dams or centrally situated boreholes which will supply water to the entire area.
Speaking further, the don also frowned on the environment in which some factories produce their water. According to him, some of them are situated within areas in which the sewage system is poor. He said that in such situation there cannot be any doubt about the hygienic nature of the water, noting that "the water there cannot be colourless and/or odourless. It might even be clean, but there will be bacteria in the water."
As of today in Nigeria, the 2030 SDG date for Water for All looks distant. Serious countries would by now be working assiduously to achieve the goal, but for Nigeria there is always a big question mark over the possibility.  Nigerians continue their search for potable water while many suffer from lack of access to hygienic water while waiting on government's empty promises.
 —Additional story by Elliot Ovadje.
The post Why Nigeria is still grappling with providing water for all appeared first on Tribune Online.