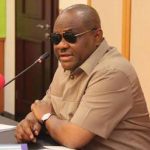 Rivers State Governor, Nyesom Wike, has inaugurated the committee on the Administration/Disbursement of the Civil Servants Revolving Loan Scheme.
The governor also inducted the Rivers State N200million Monthly Traders and Young Entrepreneurs Interest Free Loan Scheme.
Speaking at the inauguration ceremony held on Wednesday at the Government House in Port Harcourt, Governor Wike stressed the need to set up the committees to revolve around the empowerment of the Rivers people.
He disclosed that the civil servants revolving loan scheme was initiated by the administration of former Governor Peter Odili but neglected by the successive government.
Wike, however, explained that his administration was reintroducing it because of the need to reach indigent civil servants and the fact that the scheme is being dedicated to workers between grade levels 1 and 13.
"This loan scheme is to reduce the burden of civil servants between levels 1 and 13. All those qualified should be granted. It is a loan for all civil servants, irrespective of their political affiliation.
"Civil servants must not abuse the loan scheme. This government means well for civil servants; we have no problem with labour but nobody can apply twice," he said.
The governor, who directed the committee to commence work immediately, informed the gathering that N100million would be made available monthly to the committee for disbursement.
On the N200million Monthly Traders and Young Entrepreneurs Interest Free Loan Scheme, he noted that it is meant for every businessman and woman residing in the state.
Governor Wike stated that while the government encourages young entrepreneurs to grow their businesses and would have access to the funds, the beneficiaries must be registered as voters in the state.
He also challenged the committee to advertise the availability of the loan and the modalities for accessing the loan.
Responding on behalf of the committees, the Head of Service in the state, Mr Reuben Godwin, assured the governor that they would deliver on their mandates.
He also thanked Governor Wike for his commitment to the welfare of the people and the development of the state.
The post Wike Inaugurates Loan Disbursement Committees appeared first on Channels Television.