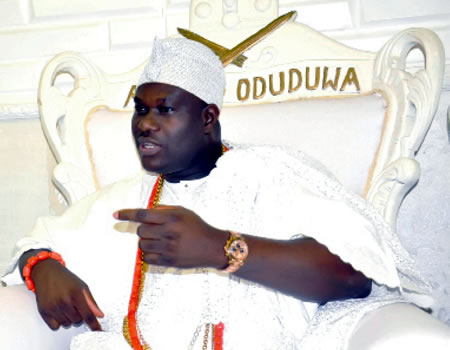 FOLLOWING his commitment towards reviving and upholding the tenets and cultural values of the Yoruba nation, the Yoruba Youth Council, (YYC) will on Friday conferred an Award of Lord of Culture, on Ooni of Ife, Oba Adeyeye Ogunwusi.
This was contained in a statement issued and signed by the President of YYC, Mr Eric Oluwole, who stated that the award became necessary because of the monarch commitment towards the promotion of Yoruba culture and values.
Oluwole noted that Oba Ogunwusi has been a good ambassador of the Yoruba nation, saying he has over time become a recurring factor in cultural promotion in the Yoruba nation.
He noted that the monarch commitment to the preservation of cherished values of the Yoruba is second to none in the Southwest states and other Yoruba speaking areas.
Oluwole stated in the statement "In a bid to ensure the sustainability of one of our major core values, which is to continue to acknowledge and encourage the efforts of our leaders in the land of Odua, we the entire Yoruba Youth Council; a worldwide recognised Youth arm of the Pan African Social-Democratic Group, Afenifere, has unanimously agreed to Celebrate the Ooni of Ife, Oba Adeyeye Ogunwusi.
This honour becomes necessary for his enormous achievement in reviving and upholding the tenets and cultural values of the Yoruba nation especially in the area of Youth development and advocacy for capacity building which has obviously been yielding a worldwide.
The recent affirmation of Yoruba language as the official language in some parts of the world especially in places like Brazil, the Benin Republic among many others shows the result of the commitment of the monarch towards repositioning Yoruba culture and value across the globe."
He called on other Yoruba leaders to emulate the monarch in promoting Yoruba culture, tradition, values and religious tolerance for peaceful coexistence.
He, however, disclosed that other ambassadors of Yoruba land would be celebrated during the event slated at the Ooni's Palace, Ile Ife, Osun state on Friday.
Some other personalities to be honoured include; the Aare-Ona Kakanfo of Yorubaland, Aare Gani Adams, Dr Tokunbo Awolowo-Dosumu, Oyo State Governor-elect, Seyi Makinde, Chairman of Itsekiri leaders of thought, Chief (Barr) Edward Ekpoko, Chief Adebayo Adelabu and Sen. Teslim Folarin.
Others include Ekiti state Chief Of Staff, Biodun Omoleye, Hon Bola Oyebamiji, Chairman Klickconect Company, Chief Alex Ajipe, Kole Omololu, Seye Kehinde among others.
The post Yoruba Youth to honour Ooni of Ife appeared first on Tribune Online.