By Cynthia Alo
GROUP Managing Director, Royal Exchange Plc, Alhaji Auwalu Muktari, has been named the most outstanding Chief Executive Officer of the Year in the insurance sector, by the Independent Newspapers.
According to the Managing Director/Editor-in-Chief, Independent Newspapers, Mr. Ade Ogidan, who spoke during the award ceremony, "it was in recognition of his extra-ordinary doggedness, dynamism, unparalleled energy and passion in impacting the insurance industry and excelling in a very difficult business terrain as a role model."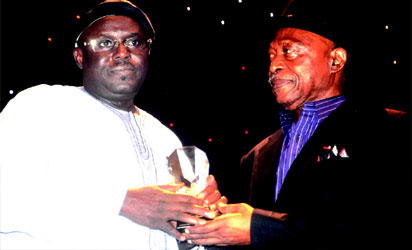 Commenting on the award presented by the publisher of Vanguard Newspaper, Mr. Sam Amuka, Alhaji Auwalu Muktari, who attended Ahmadu Bello University Zaria where he obtained a Diploma in Insurance at Credit Level in 1983, thanked the management of Independent newspapers for selecting him from the over 50 insurance chief executives in Nigeria and acknowledged the support received from the Board and Management of Royal Exchange Plc, which has enabled him succeed as the group managing director, following his appointment in 2016.
Muktari had left Royal Exchange Plc to become the Managing Director/Chief Executive Officer of Yankari Insurance Co. Ltd in 2008, and returned to Royal Exchange as the Group Executive Director, Marketing and Sales in 2010 and was appointed the Group Managing Director in June, 2016.
He stated: "This award will only spur me and the Royal Exchange Team to strive to achieve even better financial results for the group. Our resolve as a 100-year company operating in Nigeria is to ensure we leave a great legacy for those coming behind adding "The goal for all of us in Royal Exchange is to ensure we make the company among the best insurance groups operating in Nigeria."
Alhaji Muktari is a member of the Institute of Directors, Nigeria; Fellow of the Institute of Islamic Finance Professionals, Nigeria; Associate Member, Institute of Management Specialist, UK; Member, Chartered Insurance Institute of Nigeria; Associate Member, Institute of Management and is currently the President of the Institute of Sales and Marketing Management of Nigeria.
The post Royal Exchange Group MD wins award appeared first on Vanguard News.