Serena Williams' return to the WTA Tour following the birth of her first child will be the"greatest challenge" of her career, her coach Patrick Mouratoglou has said.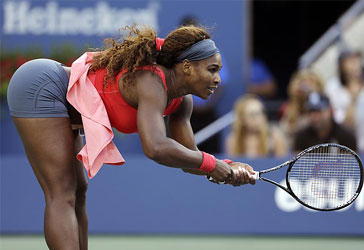 But Mouratoglou also believes the American can get back to her best in time for the French Open.
Williams, who won her 23rd Grand Slam title at last year's Australian Open before going on maternity leave, pulled out of this year's tournament in Melbourne.
She represented the U.S. in a Fed Cup doubles match last month and is scheduled to take part in the BNP Paribas Open at Indian Wells this week.
Asked if her latest comeback represented the biggest test of her career, Mouratoglou said:"It probably is… now she is 36, just had a child, a second blood clot, has gone more than a year without any competition.
"I think we can say without a doubt that this is her biggest challenge."
Former world number one Williams said she almost died after giving birth to her daughter in September.
She had returned in 2012 from surgery for a life-threatening blood clot on her lung and climbed back to the top of the rankings.
Mouratoglou said fans had to give Williams time to adjust to the rigours of the sport.
"I think she'll be ready for Roland Garros. The competitions she will play until then will help her and every day she progresses on her fitness," he told the Women's Tennis Association website.
"Serena's target will be to win Grand Slams. She knows that coming back may take some time, but her level of expectation is high as always.
"There are three Grand Slams left this season. They will be her three main goals for 2018."
The post Serena's comeback her greatest challenge, says coach appeared first on Vanguard News.