UEFA President Aleksander Ceferin will fight tooth and nail to restore competitive balance to European club football, he told the European football ruling body's annual Congress on Monday.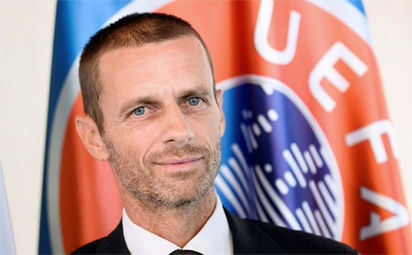 He, however, said that he could not promise a return to the days when teams from Eastern Europe could dream of winning the flagship Champions League competition.
European club football has become increasingly dominated by a handful of elite clubs and the Champions League has included some embarrassingly one-sided matches this season.
The round of 16 first-leg ties played this month featured two matches ending in 5-0 score lines and one 4-0.
"We must dare to rethink our models, in particular to establish greater competitive balance, one of the greatest challenges facing the future and present of football," Ceferin said.
"The club game still requires our serious attention. We must dream big, but I cannot promise you the moon because I am not a merchant of dreams and I am not a politician.
"I will fight tooth and nail to introduce measures which restore some balance, but I cannot claim that this will result in a club such as Steaua Bucharest or Red Star Belgrade being next to have their name engraved on Champions League trophy."
Both clubs won the old European Cup.
"UEFA is not a bank, Switzerland has enough banks already. What is the point in generating record-breaking revenues, if it is just an accumulation of wealth?" Ceferin asked.
He also warned of competition from e-sports.
"We face competition from other sports and other activities that capture the imagination of the next generation," he said.
"E-sports and video games are all our competitors; the world our youngsters inhabit is as virtual as it is global. We would be naive not to notice that."
The post UEFA President, Ceferin, promises fight to restore balance among clubs appeared first on Vanguard News.